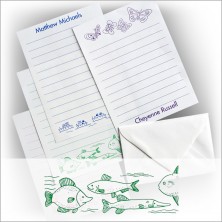 Here in a day and age when most people consider correspondence to start and stop at the email-Facebook-text message trifecta, a handwritten letter feels like an absolute treasure. In fact, handwriting has recently gone from a lost art to a trending topic as people rediscover the joys of writing, sending, and receiving handwritten letters and cards.
With handwriting experiencing its official day in the sun as a bona fide trend, more people are looking for ways to make sure their letters have impact. People are looking to set their letters apart and really make them feel personal, but they want them to feel in step with the times as well. That's exactly why we're seeing so many handwriting enthusiasts getting into collecting stationery these days.
But what's hot in stationery, greeting cards, and note cards today? What are seasoned letter-writing veterans who never fail to wow their recipients choosing to add to their desk? Let's take a closer look at just a few of today's most popular options.
Personal Stationery That Feels Unique
Stationery that's personal in one way or another has always been popular. However, these days we're seeing people thinking outside the box to a greater extent. With so many people into DIY, Pinterest, and one-of-a-kind artisanal items from sites like Etsy, we're seeing people going for an increasingly handcrafted look.
Vintage designs and fonts are incredibly popular, for instance, as they always feel artisanal in nature. People are also looking for unique finds designed by independent artists. Others prefer options that will gel well with doodles or sketches they like to add themselves.
Office Materials That Make a Statement
With the lines that differentiate work time from play time becoming blurrier every day, people are spending more time working whether they really want to or not. They're also seeing the work they do as a part of who they are to a greater extent than they might have in the past. That said, they're choosing office stationery and note cards that are personal, over stark company letterheads.
Splashes of color offset by professional, neutral-hued details are popular right now. The same goes for organic or abstract shapes, rich materials that add sophistication, and details that mimic the organic strokes of a brush or pen. In other words, the boundaries between home and office are fuzzier these days (if they exist at all), and people are into office supplies that embrace this.
Greeting Cards in Step with the Times

Even greeting cards, thank you cards, and note cards are shifting to reflect the times we live in. For instance, cakes are considered a less-than-original option for parties or celebrations these days. As more people begin to choose cupcakes, macaroons, or ice cream alternatives to punctuate their special days, we're seeing these items becoming more popular for cards as well.
Other trends that have been slowly making their way onto people's choices in note cards and greeting cards include food-themed items, wine-related designs, and all-over patterns. People are embellishing more of their cards with extras like feathers or sequins, too. Any little touch people can think of goes, and the more unique, the better!
Baby Themes That Break with Tradition
Cards and stationery that people are purchasing with baby showers, or new babies in general, in mind veer away from the traditional, predictable pink or blue. With gender reveal parties on the rise, we're seeing more baby-related themes keeping things completely neutral, as a rule. Yellow is still a popular gender neutral color choice, but purple and green are gaining in popularity.
Patterns are also super chic. Look for options that feature stripes, dots, or quirky takes on designs that are already familiar. Once again, individuality is king, and creativity is queen. People are still enchanted by the limitless possibility a new baby brings to the table, and they're choosing correspondence items that reflect this.
Gift Items That Are Big and Bold
Personalization is still very much the order of the day when it comes to gifted stationery, note cards, or writing accessories. Bold, colorful monograms are still top choices in regards to every demographic. Clean, bold lines and graphics are also popular. As with personal stationery, there's also a preference for gift items that are vintage-esque or that come attached to that "hand drawn" feeling. Understated florals and classic designs are still top picks as well.
In short, correspondence is arguably more popular and "hip" than it's ever been, and the massive popularity of out-of-the-box stationery designs is proof. How will you make a statement?