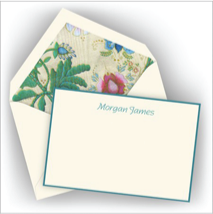 Can the paper you use make a difference in your business? In a world often dominated by electronic media, websites, and insta-this-and-that, is there still a place for business letters, notes, and cards?
According to Forbes (Jan 2013), "In this day and age, when sadly we're getting fewer and fewer letters in the mail, a handwritten thank you note or well-crafted on top-quality stationery, will make a candidate stand out from others who chose not to take that extra, personal step."
The April 2013 issue of Harvard Business Review explains why personal notes and great stationery are so important. "Written notes mean more because they cost more. Emails, tweets, texts, or Facebook messages are essentially costless. They're easy to write and free to send, and you and I produce hundreds of them every day. A recent study indicated the average corporate email account sent or received more than 100 emails per day, and Americans between the ages of 18 and 29 now send or receive nearly 100 texts per day."
Handwritten notes are also valued because of their place in our lives. How many emails do you have taped to your refrigerator or pinned up on the bulletin board? Yet, look around the offices you visit. Notes, cards, and personal items still receive places of honor – even in this digital world. The handwritten note has life, a kind of permanence. Granted, the NSA has taught us that our email may be "permanent," too, but it just isn't the same.
With that in mind, what sort of stationery is right for your business? The experts agree that every business should have the basics, such as a company letterhead with matching envelopes and business cards. They also agree that these are most often used for regular business matters. Special correspondence, however, should be conducted on separate, high-quality stationery.
There are two main lines of thought on special business stationery, but both of them agree that the quality of the paper is essential. You want paper that says "this is not cheap copy paper" as soon as it is touched. Executive correspondence paper is often one size smaller than copier paper, as well, so both the touch and sight instantly create interest. Whether it is a cotton or linen blend, a 32-pound silk finish or a 60-pound vellum finish, or parchment-style paper, the difference lies in what should go on it.
One line of thought says that a company logo, and perhaps your name, should be elegantly embossed or engraved on the paper. Most people of this mindset would have contact information included along the bottom of the paper. The thought is that business leaders are pressed for time, and you should never make them look for your information. In the time it takes them to look you up, they could be taken in another direction, and your moment is lost.
The other line of thought is that most business correspondence has to pass through a secretarial gatekeeper. Anything that smells of junk mail or which could be viewed as "read later" material may never make it to your recipient. An elegant paper stock with a quality envelope devoid of company logos and seals presents itself as very personal and important. Most gatekeepers are not going to mess with the boss's personal correspondence. If you took the time to think about, write, and send a personal message, you certainly want it to be read.
Whichever way you choose to go, make sure the paper matches your style and personality, in weight, composition, color, and border. Choose a writing instrument that leaves deep, bold, and clear lines of text. The writing instrument often needs to match the paper, since not all inks work as well on all paper types and surfaces.
For example, a 70-pound bond with satin finish will dry more slowly than a 60-pound paper with an ultra-smooth finish. Some papers absorb ink, while others are subject to bleeding. When you take the time to match your stationery to your personality and writing talent, however, the message you send, beyond the words on the paper, is that you are a person who values quality. If you are not willing to skimp on your personal correspondence, perhaps your products and services are just that much better, too.