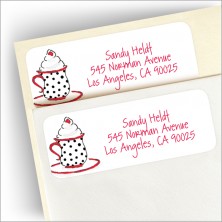 Do you have about a million invitations to send out? Maybe you are getting married soon, or your not-so-little baby has just graduated from high school. Are you hosting an anniversary party or a holiday get-together? Whatever the case may be, you need to send out invitations to all your friends and family.
Although you are excited and a little anxious for your gathering, you also have a lot of work to do! The invitations are only a fraction of the things that have to get done. Although the menu, decor, and music may seem like big ticket items and important to-dos, your invitations are equally essential. After all, what is a party without any guests?
So you have your invitations all picked out and ready to go, but you have to write all of the addresses on the envelopes. This can be very time-consuming! If you mess up an address or write it a little sloppy, you may have to trash that envelope and do it all over again. There is a simple solution for this nit-picky problem: labels! You can order dozens to hundreds of labels with your address on them for both the envelope you are mailing out and the reservation card you intend to get back.
American Stationery has various return address labels that can be customized for your occasion. From rectangle or square shapes to script and modern fonts, your label can reflect your personality. There are several fonts and colors to choose from, as well as a plethora of holiday and seasonal designs. Do you want snowmen, evergreen trees, or Santas for your Christmas cards? Maybe you want hearts or doves for your wedding, or an elegant calligraphy. The possibilities are virtually endless!
You have the option to purchase either labels on sheets, or rolls; both are convenient when filling out a ton of envelopes.  There is really no difference between the two styles. Both are easy to peel and self-adhesive. If you want a keepsake from your wedding, anniversary, or another special occasion, you can purchase a matching personalized label tin if you opt for the rolls instead of the sheets.
Instead of wasting your time searching through hundreds of different scripts, colors, and fonts, American Stationery has made it easy for you to find what you desire. To pinpoint your ideal label, you can make shopping fast and easy, thanks to specific themes, including:
Besides looking at different themes, you can check out the different types of labels. Your budget may be the biggest factor of all, so you can simply browse based on that. Another way to determine the perfect address return label is by browsing through the particular details of:
Production time
Designer
Size
Printing type
Product type
Color
Price level
If you want to spruce up your envelope even more, and make it really fancy and personal, you can opt for stampers for your labels instead of stickers. However, you will want to make sure you have a steady hand with even pressure when marking your envelopes.
At American Stationery, you can get round stampers, square stampers, quick stampers, refills, and embossers. These different inks each add for a one-of-a-kind element to your envelope. Besides return address labels, there are also shipping labels, stickers, book plates, and bag tags.
So, skip the old-fashioned way of filling out envelopes and try out printed labels. You will be done with your invitations and reservation cards in no time, so that you can focus on the next important part of your big day! Not only will you save time on filling out the envelopes, everything will look crisp and clean, thanks to your labels. Even if people end up throwing away the invitation, they will notice how cute and customized you made everything. They will wish they took time to create such a crafty invitation!
American Stationery has been in the stationery industry for nearly 100 years. Since 1919, the USA-based company has proudly created one-of-a-kind stationery and all the accessories associated with it. Although the business has boosted its modern technology over the decades in order to create quick, error-free processing, the owner and employees still work with reliable dedication. You can expect quality, yet affordable, merchandise with every purchase.