The ways in which we can communicate with each other have grown dramatically as we continue to advance our technology. From social media messaging to texting, it is easier than ever to get in touch with family and friends. If you're looking to make a more personal connection, writing a letter on personalized stationery could potentially make the biggest impact. Anyone who wants to make their letter stand out and showcase a bit of their personality should consider using personalized stationery. In fact, there are a lot of benefits when it comes to using this kind of writing paper. For this reason, it is important that you think carefully when it comes to selecting the right type to make a more personal connection.
WHY USE PERSONALIZED STATIONERY?
Even though texting and email are the norm in today's technology-driven world, they are often seen as impersonal. Despite the popularity of social media, studies show that it is actually making us less social. Stepping away from these bland forms of communication and writing a letter on personalized stationery instead can produce more benefits than one might think. Whether you are using it to write letters for business clients or to write to a relative that lives far away, using writing paper that reflects you can give your letter a unique touch.
PERSONALIZED STATIONERY
CAN BENEFIT YOUR BUSINESS
If you own a business, investing in some quality stationery would be a wise choice. Many businesses show appreciation to their current and potential customers by writing letters on personalized stationery. A company's client base is everything and businesses depend on them for success. Making a personal connection by using this type of writing paper is one way that businesses reach out to customers and make them feel valued. These clients are impacted more by the writing paper because it is unique and not as simple as just sending them a tweet through Twitter. They are no doubt also being swamped by emails from businesses every day, but letters are a more personal way to make a connection with clients.
IT CAN ALSO HELP YOU LAND A JOB
The economy is on its way back, but it can still be difficult to find employment in today's job market. When you land a job interview, you can stand out from the competition and leave a good impression by writing the company a thank you letter on personalized stationery. Looking professional is critical, and this means that your stationery needs to be simple, while also being memorable to the potential employer. Make sure that your letter is short and specific to that interview for it to have the best impact.
PERSONALIZED STATIONERY REVEALS THE REAL YOU
Making a personal connection is difficult through text and email, because there is little that the writer can
do to make it stand out. Personalized stationery allows the writer to express themselves with a unique design, color, and layout that will hopefully stand out to the reader. However, it's also important that the stationery does not distract the reader from your writing. Finding the right design that gives hints of your
personality will enhance your letter and highlight who you are.
IT GIVES THE RECIPIENT SOMETHING TANGIBLE
When you have a memorable phone conversation, there isn't a great way to preserve it. You can always grab a screenshot of an important text conversation, but this isn't particularly satisfying. Writing a letter on beautiful personalized stationery gives the receiver something tangible to hold on to and cherish. If you have ever seen relatives digging through boxes of old memorabilia, there is a good chance that at least one letter will be in the stack somewhere. People enjoy physical letters for the same reason that some people prefer books over E-books. There is just something about the feel of the paper in your hands that makes it more special.
PERSONALIZED STATIONERY SHOWS THAT YOU CARE
Written correspondence to someone is a great indication that the writer cares about them. Using personalized stationery also indicates that the writer thinks highly enough of the recipient to use nice writing paper rather than a piece of notebook paper. This is why it is helpful to have multiple types of stationery in your
home so that you are ready to write a letter for unexpected situations. While thank you letters are often predictable, you might have to write a condolence letter at a moment's notice. It is better to order your stationery long before you need it.
HOW TO SELECT THE BEST PERSONALIZED STATIONERY
With so many great benefits that can come from using personalized stationery, it's important to select the right stationery for you. The design of the stationery, the kind of paper that is used, and where to purchase it are all things that you will need to make decisions on. With so many options, it might seem daunting to select the best stationery for you. Here are some things to consider that will help you make these choices:
TYPES OF STATIONERY
It's better to acquire multiple types of stationery so that you are ready to use the right kind for any occasion. Below are some common types of stationery: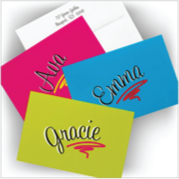 FLAT CARDS:
Flat cards are the most versatile of stationery, as they can be used for occasions that are both formal or informal. They are usually engraved with the person's initials and have the person's address on the back side of the envelope.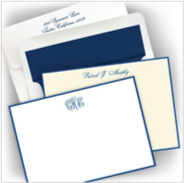 CORRESPONDENCE SHEETS:
Correspondence sheets are used for personal correspondence. Writing personal letters back and forth requires a lot of space, and correspondence sheets are usually around 5.75″ x 7.75″ in size.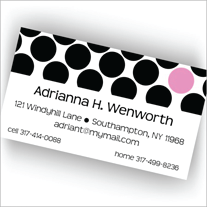 BUSINESS CARDS:
Business cards are calling cards that have essential information (email, phone number, location, etc.) on a small card. They are helpful to hand out to clients that might want to contact you with further questions or details.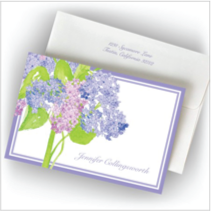 FOLD-OVER NOTES:
Fold-over notes are less formal and usually have a monogram or art design on the front. This type of stationery is used for thank you notes or casual correspondence.
COUPLES NOTES:
If you would like to thank someone or express condolences for both you and your spouse, couples notes are a good way to do this. These notes might have your last name or initials on them and make writing for the two of you simple.
PAPER:
Paper can be made from cotton or wood. The more high-quality paper will be made from either 100 percent cotton, or close to it, and this paper will feel softer to the touch. The finish also plays a role in how high or low quality the paper is. Some popular finishes include matte, vellum, glossy, parchment, ridge, felt, embossed, and antique.
PRINTING PROCESS
There may be a lot of options when it comes to printing, but don't panic. Having a good idea of what is out there will allow you to make the best choice when it comes to the printing process.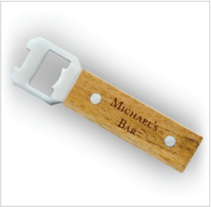 ENGRAVING:
Engraving uses a metal cylinder that is engraved with the image to be printed. The metal indentation is filled with ink, and then pressed onto the paper that is being printed with extreme pressure. It is more expensive than other methods and is often used for fancy occasions.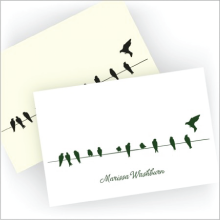 THERMOGRAPHY:
This method produces a similar effect as engraving, but it is less expensive. Thermography creates raised lettering by heating and fusing viscous powder and ink. The letters may seem shinier and smoother, but this option is great for those who want their stationery to look formal at a cheaper cost.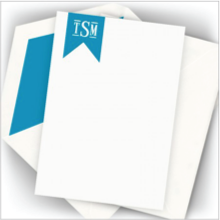 LETTERPRESS:
Letterpresses are typically used for calling cards and thank you notes. Once the design is made on a computer, they are made into photopolymer plates that leave the design and lettering raised up on the plate. The raised part forms the printed design, while the recessed area does not print. The plate is then pressed into the
paper to create a 3-D look. This option is one of the more expensive options when it comes to stationery, but the result can be worth it.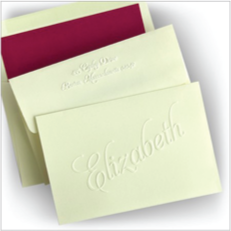 EMBOSSED:
Similar to engraving, this method makes the letters and design raised, but without color. It is usually done on thicker paper so that the design is more distinct. It can take anywhere from three to five weeks for the stationery to print,but the modern and classy-looking result is worth it.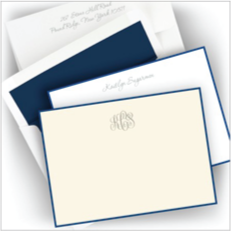 FOIL STAMPING:
Foil stamping creates a metallic design by taking a heated copper plate and using it to push the foil into the paper. The metallic impression that is made can be stunning, and there are many types of foils that you can use to achieve the perfect look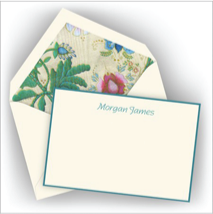 DIGITAL/FLAT:
Digital printers offer designs that look similar to your printer at home, but the professional printers that are used offer a much better result. This type of stationery is perfect for those on a budget, or for casual events.
DESIGN AND COLOR
The design and color are areas in which you can truly show off your personality. They can also set the tone for the letter and make a significant impression on the reader, so it would be wise to consider these choices carefully:
DESIGN:
When it comes to the design of the stationery, businesses should have their name and logo printed somewhere on it. By doing this, it will increase brand recognition and look professional. Others can have their name or monogram printed on their personalized stationery. This is a popular choice because it gives a more formal appearance to any letter. No matter what you choose, the design should always be tasteful and simple.
COLOR:
Choosing the right color scheme is important for your personalized stationery, and many people make poor choices when it comes to color. White and beige are popular choices for stationery that is more formal, while bolder colors are great for informal situations. You can still choose bold colors when it comes to formal situations, but it can sometimes be too much for certain occasions.
ONLINE OR LOCAL STORE?
Target and Wal-Mart will most likely have stationery sets that have your first initial on them, but they won't be able to go further than that. In addition, these sets tend to be low quality. You can find better options online at places such as American Stationery, where you can have a more significant role in personalizing your stationery to capture your essence.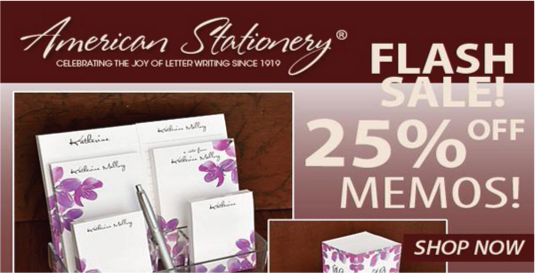 USING PERSONALIZED STATIONERY
The type of occasion will have an impact on what stationery you should use. It would be a poor choice to use low-quality stationery for an important or high-profile interview. Likewise, super fancy stationery might be over the top for a simple thank you letter to a friend.
WHAT'S THE OCCASION?
Occasions can be formal or informal, and this will determine the quality and type of stationery that you choose. Here are just a few situations that would require different kinds of writing paper:
LETTER TO A BUSINESS ASSOCIATE OR BOSS
If you are writing a letter to your boss or business associate, high-quality letter sheets are the preferred option. This gives you enough room to write and demonstrates your professionalism.
CONDOLENCE OR THANK YOU LETTER
Condolences and thank you letters are written on correspondence cards or fold-over cards and usually do not need to be high quality. A simple and elegant card that is not overly fancy will be more appropriate for the situation.
LOVE LETTER
When it comes to crafting a beautiful love letter to your significant other, it should be on high-quality letter sheet stationery. While the gesture is nice even if it's written on lower quality stationery, your loved one will be more impressed and grateful if you put more effort into it.
Make a Connection with Personalized Stationery
Target and Wal-Mart will most likely have stationery sets that have your first initial on them, but they won't be able to go further than that. In addition, these sets tend to be low quality. You can find better options online at places such as American Stationery, where you can have a more significant role in personalizing your stationery to capture your essence.