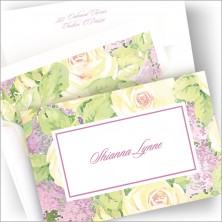 When is the last time you wrote a letter? Chances are, it hasn't been recently. In our digital world, it is all too easy to opt for a text or email, or to call to communicate with a loved one, making letter writing a lost art. We think there is no time like the present to rekindle your relationship with letter writing, and right in time for the holiday season!
Whether Christmas, an anniversary, or a birthday, it's likely your spouse would adore receiving a thoughtful, handwritten letter on a beautifully personalized piece of stationery. Both meaningful and inexpensive – it makes the perfect gift! Also, in today's world, love letter are unique. We rely all too easily on the quickest way to exchange an "I love you" with our significant other.
Take the time to craft a personal letter that expresses just how you feel about that special someone in your life. It may be hard at first, but tap into your emotions, retell an experience you two shared, or simply tell them how much they mean to you.
Since you might need help finding inspiration to get started, we wanted to bring you snippets from some of history's most famous love letters.
1. Jimi Hendrix to his "little girl" (date unknown)
"Happiness is within you … so unlock the chains from your heart and let yourself grow."
2. Gerald Ford to Bette Ford shortly after her diagnosis of breast cancer (1974)
"No written words can adequately express our deep, deep love. We know how great you are, and we, the children and Dad, will try to be as strong as you."
3. Beethoven writes to his "Immortal Beloved," whose identity is still unknown (1812)
"Love demands everything and that very justly—thus it is to men with you, and you with me."
4. Richard Burton writes Elizabeth Taylor to tell of her beauty (1964)
"You don't realize of course, E.B., how fascinatingly beautiful you have always been, and how strangely you have acquired an added and special and dangerous loveliness."
5. Napoleon Bonaparte sends his love to Josephine de Beauharnais (1796)
"The charms of the incomparable Josephine kindle continually a burning and a glowing flame in my heart."
6. Johnny Cash wishes wife June Carter a happy birthday (1994)
"Happy Birthday Princess,
We get old and get use to each other. We think alike. We read each others mind. We know what the other wants without asking. Sometimes we irritate each other a little bit. Maybe sometimes take each other for granted.
But once in awhile, like today, I meditate on it and realize how lucky I am to share my life with the greatest women I ever met. You still fascinate and inspire me. You influence me for the better. You're the object of my desire, the #1 Earthly reason for my existence. I love you very much."
7. Leo Tolstoy to Valeria Arsenev (1856)
"I already love in you your beauty, but I am only beginning to love in you that which is eternal and ever previous – your heart, your soul. Beauty one could get to know and fall in love with in one hour and cease to love as speedily; but the soul one must learn to know. Believe me, nothing on earth is given without labor, even love, the most beautiful and natural of feelings."
8. Ernest Hemingway shares his feelings with Marlene Dietrich (1951)
"I can't say how every time I ever put my arms around you I felt that I was home. Nor too many things. But we were always cheerful and jokers together."
9. John Keats expresses his love to neighbor Fanny Brawne (1819)
"My love has made me selfish. I cannot exist without you—I am forgetful of every thing but seeing you again."
10. Winston Churchill to his wife Clementine Churchill (1935)
"Time passes swiftly, but is it not joyous to see how great and growing is the treasure we have gathered together, amid the storms and stresses of so many eventful and, to millions, tragic and terrible years?"
Take a cue from these famous musicians, writers, explorers, and kings from a past time, and write a letter to a loved one. Whether you craft a letter to a spouse, child, parent, or friend, it will surely be one of the greatest gifts they have received, and something they will cherish for years to come.