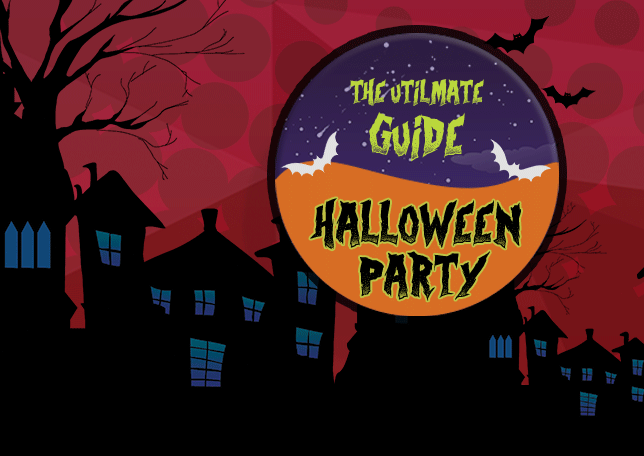 Planning any party is overwhelming, but especially when planning a Halloween party. For your shindig to really be a hit you need the proper organization. There is so much to decide on that it can make your head spin.
Before deciding on themes, food, decorations and everything in between, you need to determine if the event will be a family affair or the guest list is strictly open to adults. Depending on your guests, you'll be able to determine if you want to up the scare factor or downplay the holiday into something more kooky then spooky.

TIP:
Send out invitations 3-4 weeks in advance to give your guests plenty of time to plan for their costumes and work the celebration into their schedule.

TIP:
If you don't want to send actual invitations through snail mail, use Facebook, or any other social media forum, to create an event and invite your friends that way.
Once you've created a guest list (or an idea of the guest list) you're ready to start the planning process. But need not fear! Use this as your ultimate go-to guide for themes, food and decoration ideas and everything else you will need to host an unforgettable bash of the year!

1

You can't go wrong with this classic. Perfect for young or old, have your guests show up dressed up in their Halloween bests! To make sure that every guest actually shows up in a costume, host a contest and have your guests deem the winner(s), then hand out prizes or crown the best costume!
2

Turn your house or backyard into a haunted house. This theme uses lots of decorating to make it successful. If the guest list is strictly adult, you can turn your house into a creepy scientific laboratory gone wrong or you can tone down the antics and host a family friendly of the mad scientist laboratory – spaghetti brains and all!
3

You can't go wrong with this classic. Perfect for young or old, have your guests show up dressed up in their Halloween bests! To make sure that every guest actually shows up in a costume, host a contest and have your guests deem the winner(s), then hand out prizes or crown the best costume!
4

You can't go wrong with this classic. Perfect for young or old, have your guests show up dressed up in their Halloween bests! To make sure that every guest actually shows up in a costume, host a contest and have your guests deem the winner(s), then hand out prizes or crown the best costume!
5

This theme is just as fun as it sounds! If you and your friends are a literary bunch, have everyone dress as their favorite (dead) poet who has risen to gather for their secret society. You can hand out "formal" invitations inviting the guests to a literary reading and even adorn your house as a creepy library, complete with old books, flickering candles and lots of cobwebs.
6
Comic book stories and movies appeal to all ages. Host a holiday shindig where your guests have to chose a hero or villain to embody. It will be fun to see how many heroes show up and how many villains.
If you're catering to young kids or families, host games during the party where the villains and heroes face off. Keep score of how each side does throughout the night and tally up the result at the end. Hmmm who will come out the victor, heroes or villains?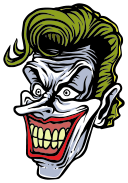 7
Decorate your house in red and white, string colored lights and serve popcorn, giant pretzels and funnel cakes. If you have a large backyard, this would be a perfect theme to take outdoors and it is applicable for family affairs. The host should dress as the ringmaster and host competitions, games or any other fun for your guests!
8

Halloween is all about candy right? Send out glittery, candy shaped invitations and transform your house into a candy factory! Bright colors, swirls and glitter serve as decorations that wont scare your guests. And, of courser, serves candy and sweet goodies as refreshments.
9
This theme allows you to play around with party ideas that differ from the usual holiday spook. Your guests will have a blast dressing up as the different characters from the book (and movie). Serve sweets with tea and host games of cards and croquet!

Transform your house into Hogwarts! Include owl decorations, creepy lighting and candles, cauldrons, magic wands and of course the sorting hat! Send out invitations as Hogwarts acceptance letters, and if this is a family party, have all the adults dress as professors and the children dress as students. For the adult Harry Potter fans, serve "butterbeer" and if you're providing transportation home for partygoers call it the Knight Bus to really wow your guests.

What better way to get ready for the 2016 General Election than to have your to have your guests dress as their favorite, or perhaps the most controversial, politician candidate running. Extra points if the guest dresses as a dead politician and shows up as a zombie Abe Lincoln. Make sure your guests cast their votes for the best costume of the night on ballots too!
You don't even need traditional decorations for this theme! Use your Fourth of July banners and flags and serve good ol' American cuisine like burgers, hotdogs and turkey legs.
1
Halloween Movies
A great way to set the scene for your gathering is to play scary movies in the background. Set the volume on mute to set the mood without the sound clashing with your music. Any TV will work but if you have access to a projector even better!
Determine your movie playlist based on your party's theme. If you want a truly horrific party, select classic Halloween movies like Friday the 13th series, Beetlejuice or Rocky Horror Picture Show. If kids will also be in attendance choose from family favorites like Hocus Pocus or The Adams Family. If you went with a party theme based on a movie, play the movie on mute during the party shenanigans!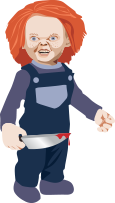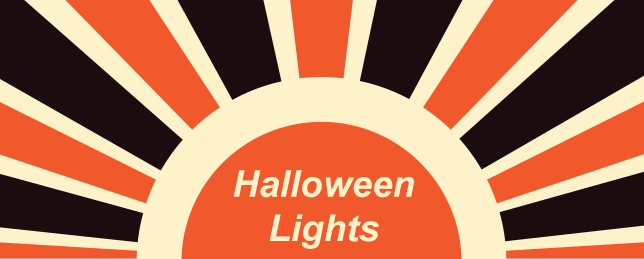 Lighting is essential for any bash. Wind purple, orange and green colored string lights around pillars, over doors and windows, around porches and decks.
3
Fake cobwebs, bats, rats, spiders
No eerie celebration is complete without fake cobwebs hanging from each doorway and room in the house! Litter fake spiders and bats through the furniture, maybe rats in the kitchen or on the refreshment table? Get creative and don't be scared to give your guests a fright!
4
Tombstones, fake blood/body parts
Step up the décor with a truly horrific twist. If you're throwing an event for adults and want to really bring out the thrills, opt for tombstones lining the walkway with their names on them. Pick up a few "severed body parts" and fake blood at your local Halloween store.
5
Jack-o-Lanterns, Pumpkins and Gourds
If your party guests are a young crowd, scary blood and tombstone decorations won't be a good fit. Instead adorn the house in festive pumpkins, gourds and scarecrows. Friendly looking witches, skeletons and zombies would also be fun to decorate with.
6
Candles
Using real candles to light hallways and bathrooms will give your party an eerie feel. Place a candelabra with candles of varying sizes on the refreshment table. If you think real candles would be too hazardous, electric candles make a safe alternative, even buy some blinking or glowing electric candles to add to the creepy theme.
7
Spooky Playlist
Music is essential for any gathering. If you don't want to play spooky music the whole time, just play the mix in the entrance. Or perhaps you'll want to make a playlist and just add a few holiday friendly songs in with your normal party mix.
8
Fog Machine
A fog machine will add a great touch to any room, foyer or entranceway to your celebration.
Photo Wall
Photo walls are a fun way to create a sort of photo booth when renting one is not in your budget. Plus, all your guests will want to show off their costumes! Pick a clear wall and drape a solid blanket, towel or paper as the background. Hang a banner across the top that shows off the theme, party name or simply "Halloween 2015".
Out of the camera's view, provide a prop table to add costume accessories like feather boas, hats, beads and masks. Another great idea is to provide cutouts of mustaches, glasses, superhero masks, and bunny or cat ears. These cutouts are usually on sticks and can be purchased or you could make them. This is sure to be a hit for the party and Instagram alike!


TIP:
It helps to know your guests palates. Make sure you know of guests' food allergies and if you can't account for every guest's special dietary needs, try to avoid using things like nuts and milk in your food. If that too is unavoidable, then at least clearly label dishes and appetizers that contain any possible allergens.
1. Candy
Even if you are hosting a party for all adults, you'll want to include candy at your party, c'mon its Halloween! Set out a large bowl or two so guest can grab candy as they're walking by.
Goodie bags are a good idea to give your guests with candy as they're leaving. Kids love these! You can fill them with an assortment of candy or match the candy and goodies to the theme of your party. Say you want to throw a carnival themed party, pass out to-go bags of popcorn or goodie bags of all Wonka candy for the Charlie and The Chocolate Factory theme.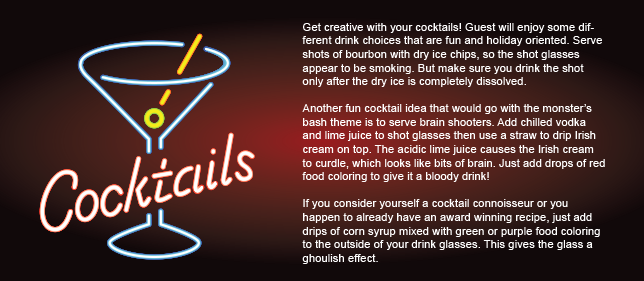 3
PunchBowl
No party is complete without a punch bowl! Make sure the punch is a blood red or ghoulish green. For a spooky treat, use dry ice to create a fog around the punch. For kid friendly add-ons freeze ice cubes in the shape of fingers or eyes and garnish each cup with a gummy worm!
Instead of plastic cups opt for goblets or cups that have skeleton hand stems. Again, you can play around with the cups based on your theme. For example, serve punch in tea cups if you go for the Alice in Wonderland theme.
4
Appetizer
For most parties it's better to serve appetizers and finger foods rather than full meals. Try to go with food options that you can prepare ahead of time so you have more time before the festivies if you need to fix or pick anything extra up.
Don't be afraid to experiment with your food either! A great item for kids are hot dogs, instead of a regular bun, twist bread stick dough around the hot dog to make fun mummies!
5
Desserts
If your guests have a big sweet tooth you might want to have a few dessert options other than candy. For kids, serve ghostly hot cocoa. That's hot chocolate topped with whip cream and chocolate pieces for eyes. Serve cupcakes that look like ghosts, monsters or jack-o-lanterns or tombstone brownies. Oh, and don't forget caramel apples!
Above all else, have fun! If your guests see you enjoying yourself then they are likely to have a blast with you! It's easy to get caught up in every little party detail, but truth is if something goes askew, your guests won't even notice. So relax and have a spooktacular time at your Halloween bash!