Counting to ten is one of the first learning experiences for most children. Learning the repetition and putting the numbers into an easy song or fun rhythm is how must of us learned ourselves. Repetition and enjoyment work whether you are young or old. Your little one will delight in learning their numbers with the Number Puzzle.  This large wooden puzzle features sturdy handles for small hands and is painted in non-toxic vibrant colors to catch the attention of your most distracted learner. Putting them in the proper places and taking them out to line them up are just two of the many uses you will find for this fun puzzle.  The counting dots under each number allow for another way to learn the numbers. Each puzzle takes about two weeks to receive as they are hand made and costs $28.95.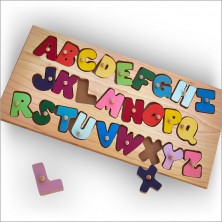 Along with the sing song way of counting to ten, one of the first songs we learn is the abc song. I even sing it sometimes when I'm trying to alphabetize things. Like the number puzzle, the alphabet puzzle has durable peg handles which make the letters easy to grab for little hands. The 10″ x 20″ puzzle will work well on a table or on the floor and is durable for even the most rambunctious little ones. Make up various games with your child such as moving the letters in different order or placing items next to each letter. An apple next to the letter A etc. For $52.95 you will receive this beautiful hand carved puzzle that is sure to last a long time.  Like the number puzzle it does take about two weeks to receive because of the handmade quality.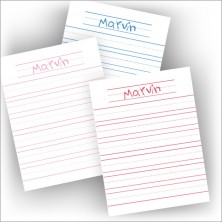 When my oldest son was young he couldn't wait to write his name.  It took of course a lot of practice but, once he could do it, he wrote it everywhere. Like adults kids love anything with their name on it. I think a lot of what made it click for him was just looking at my example and copying it down. We bought all the special fat lined note pads that  we used when I was a kid. Boy would have Your Child's Fun Handwriting Stationery come in handy. This  is a terrific item for your new writer. These sheets display your child's name in a  child like handwritten font at the top and bold dotted lines at the bottom.  Each set contains four lines available for them to write and also comes with plain envelopes. you may choose from a variety of ink colors but, it only comes with white paper. One set of 25 sheets and envelopes is $22.95.
Teaching children independence is always a very important  task. Although sometimes this can prove to be  very difficult task. It's important to teach them early on to be responsible for themselves and to take pride in what they do. We are still working diligently with our seven year all the time to remember to get dressed, brush teeth, etc. in the morning without being told.  Making a chart  for him to follow, has been the best way to get these things done in the morning. Family Scheduler is a very  handy item to have near by. For only $3.95 you will get one pad of 52 sheets with pre-out lined areas for lists of activities and house hold members names. When a task needs done there is no need to get frustrated just direct them to the chart and ask them what needs done. Giving a little independence and accountability for themselves goes a very long way!
Teaching motor skills is a big part of working with your little one. Whether you realize you are doing it or not  (I've found I just think things up to keep them busy and later realize hey that is teaching them something!) it is an important thing to get them working on. The Game Pads will help your older child learn how to play some time honored games we all grew up playing.  Dots, tic tac toe, and hangman are some of the most fun games that are truly time tested and fun to play at any age. Your child will love the personalized pad with their name at the top and have a blast taking a note pad to grandma's for a challenging game of hang man. For $26.95 you will receive 3 pads of 100 sheets each and that measure 3 5″ x 8″.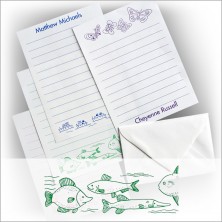 If your child is writing well enough to send a letter to a family member. Then you may consider ordering Children's Stationery. For $18.95 you will receive 50 sheets and 25 plain envelopes with your choice of ink color and fun design. They also come personalized with your child's name at the top. With two sheets for everyone one envelope, it is no problem if your child becomes a little long winded. You want to start a love of reading and writing early on in their life and what better way to do it then on a fun sheet of paper that they are sending to their cousin several states away?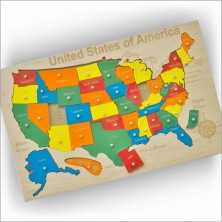 We must mention one more puzzle that we carry, and that is USA Map Wooden Puzzle. This is an item that will likely get the whole family to join in on the fun.  and this is an item that will likely be fun for the whole family for $74.95 you will receive this large 18″ by 28″ wooden puzzle with cut out peg of each state listed underneath the state, the capital is printed. Discuss travel plans, where relatives live and major national events while using this map. When I was younger my family had something similar to this and we would quiz each other on who knew the most capitals in a certain amount of time, and other games like that. If you have some time and a little bit of imagination you will find endless ways to use this puzzle with your entire family.
We know that you just want what is best for your children and that you will work hard to give them all of the skills they need to succeed. There is no need to go out and buy lots of expensive gadgets, a little bit of paper, a puzzle and some imagination will get you very far.