Party time! Summer is approaching, which means the weather's heating up and it's time to go outside! Gather some family and friends and let's have a pool party. The most fun you could ever have around your pool, is when you have guests and are entertaining. Pool parties are a great way to get people together, whether you're planning a party for children, adults, friends or family. It is the perfect time to show off your pool and yard. The key here is preparation. Invitations, menus, helpers, pool, and yard will all need to be taken care of in advance. The more you do ahead of time, the more time you will have to enjoy the party. Start about a month before the party. Make a list of who you want to come.
Party Chihuahua Invitations A cute Chihuahua is ready for a fiesta! These invitations are perfect for your Cinco de Mayo, graduation, or other festive celebration. Set includes 20 invitations and 20 plain White envelopes
Decide if it's adults only Decide whether your party includes children and specify it on the invitation. If you are hosting kids, post safety signs around the pool and ban diving. Make sure parents know they're responsible for supervising their youngsters. If you are having an adult only party, you need to specify that on the invitation. Otherwise you can choose any invitation that you like.
I always like to do home parties, however. It's not that I'm cheap, but I am also a homebody and a control freak. I like to do everything myself and have it happen under my roof. The best parties were planned with several people. Get Some helpers. Johnny does the food, Karyn gets the liquor, Steve gets the ice. And be sure to get a name or two for clean up. The end of the night is always the hardest to recruit help, so ask for clean up help before the party. You don't need to clean the whole yard, but you will need to secure the trash, leftover food and such. If you don't have outdoor space you can always do your pool party at a public pool. A pool party can be a great, low-stress party. You don't need to hire entertainment and once the kids get going, the adults can just sit back and chill while the kids have a blast in the water. A kids pool party is certainly not a new birthday party idea, but they are a sure-fire hit with kids, and you can rent out the pool at your nearest Y pretty reasonably.
Patriotic Hat Invitations A large hat against a Red and White background makes these invitations perfect for your Memorial Day, 4th of July or other Patriotic celebration. 120 Mailing Labels for $24.00
If you're unsure about how many guests to invite to your pool party, the number of guests should be relative to the size of your overall entertaining space, including the pool. Always consider that not everyone will be interested in swimming. A smart idea is to invite five extra people for every 20 on the list. This will help create balance when thinking about people who leave early or arrive late. Set the tone by sending your guests memorable invitations. If you have the budget, design the invitation yourself to be totally unique. Otherwise, there are hundreds of choices available and you can show some creativity in the way you use them. Get something fun. Hand made invitations are cool, and personal. Another option is pre-printed pool party invitations. Remind everyone to bring a towel and swimming suit.
You may end up adding an additional theme to your pool party, like a Hawaiian Luau, Pirates Reef or Mermaids. Next, start decorating with beach balls and pool noodles and other items that go with your chosen theme. Pool parties have a built in activity, but sometimes it is fun having specific games to play. Then you will need to decide on food and drinks; finger foods typically work well at a pool party.
DYO 16 Oz. Foam Cups – With Design Perfect for parties, tailgating events, or everyday dining. Therese personalized 16 oz. White foam cups will keep hot drinks hot and cold drinks cold.
Black And Red Spots Party Pack Completely coordinate your casual entertaining supplies with this Black and Red Spots Party Pack. Each Pack Includes: 16 Dinner Plates,16 Dessert Plates, 20 Luncheon Napkins, and 20 Beverage Napkins.
Once you start setting up for your pool party, you'll want to make sure that you have a tent or covered area to set up the food. Add helium balloons around the pool to add a festive touch, or hand each guest a lei when they arrive if you're having a Hawaiian Luau. Tie in your decorations to your theme.
Food is usually a big draw so consider ways to get everyone involved. For example, ask each of your guests to bring their favorite dish. As with any potluck occasion, be sure you have enough extra food on hand in case some fail to bring anything. Toward the end of your party, if there are children there, consider firing up the grill and have everyone make s'mores or broil marshmallows. Focus on finger food that can be served straight from the fridge or at room temperature. Avoid anything that could go bad in the sun. Use unbreakable plates and cups so you don't have to worry about bare feet on broken glass. You could go all out, roast a pig, smoked chicken. Or, keep it simple. Finger sandwiches, fruit bowl or just burgers and dogs. The more "self serve food" you offer, the more time you have for fun. But, remember, the first thing people usually remember about a party, is the food. Give your guests something to talk about and remember. Set up food stations Set up the bar away from the buffet to prevent bottlenecks. Space permitting, have more than one food station and a few tables where guests can sit to eat.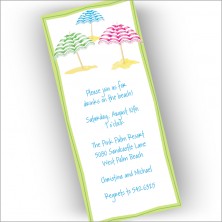 You can't have a good pool party without good beverages. But, an open bar can mean a disaster. If everyone is allowed to mix their own beverages, there is always someone who can ruin it for the rest of the guests. If alcohol is served, serve responsible. Remember, Alcohol use is involved in about 35% to 50% of adolescent and adult deaths associated with water recreation. And please don't let guests who drink, drive. Call your local cab company in advance and set up an account for the evening.
Festive Martinis Invitations Your words of invitation are bordered by a bevy of olives and accented by a Martini glass. These invitations are great for birthdays, wedding parties, retirements, corporate events and much more.
Whether you're hosting a pool party for children or adults, you need to consider the safety of your guests. Before the party, and throughout the event, check the pool area for potential dangers. You'll want to make sure diving boards and slides are secure and that there aren't trip hazards around the area. You can actually hire lifeguards for the party. Check with your local lifeguard association or YMCA to find out how to do so. The greater the safety, the more your guests will enjoy themselves, especially if there are children near the pool. Designate several adults to keep an eye out for anything unusual. Recognize that even the most accomplished swimmer will occasionally get into trouble in the pool. Your guests will appreciate that you have factored safety into your plans for the party. Designate one room for changing, and stock it with clean plastic bags for wet swimsuits. Put a bottle of hair conditioner on the bathroom sink for guests whose wet hair needs a little help getting untangled.
On The Shore Invitations A trio of striped umbrellas accent these green bordered invitations. They're perfect for birthdays, anniversaries, weddings and any other special occasion.
A week or so before the party, test everything pool related. The lights, the heater, the fountains. Make sure any electrical outlets that will be used are grounded. Trip hazards, excess patio and lawn furniture should be stored, or moved away from the pool deck, to allow easy access to the pool. Add a clarifier to the pool several days before the party. Small unfiltered particles are very easy to see at night with the pool light on, so take that extra step to get your pool as clear as possible. And make sure the pH and chlorine are adjusted. A chlorine residual of 3.0 is perfect. The morning of the party, brush the pool, then vacuum an hour later. Remove your automatic pool cleaner and store it away for the party. Do the unexpected. For example, there are non-toxic products available that enable you to color the water of your pool. If you plan the party near the 4th of July, consider making the water red. If you live in the South, and are planning a party near St. Patrick's Day, you pool has to be green. As a touch of elegance, for about $50 you can obtain a fountain that can be installed easily in the middle of your pool.
The moment we've all been waiting for…Party time! Got enough Tiki torch fuel? Ice? Soda? Make that last minute run to the store and you should be set. With proper preparation, all of the chores are done, and it's time to party. So, fire up the grill, and ice down the punch. It's your turn to relax.