In just two short months, many schools will open their doors, and students will run out screaming and celebrating the beginning of their summer vacation. It's almost hard to believe that we are nearing the end of another great year. Students have studied until they fell asleep and expanded their minds, even when they complained about homework and tests and projects…oh my!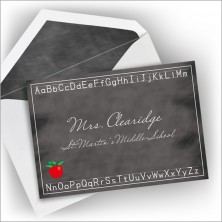 The teachers have been there every step of the way. Through all the great teaching and learning moments to the less than glamorous complaining and whining, they have stuck by our students' sides. Working before and after the school day is over, and even working at home on the weekends, teachers put in countless hours and effort to ensure students are successful.
I'm sure everyone remembers those strong moments of being impacted by an educator. Our students are experiencing that today, and it is so important to say thank you. Whether it is a hand-written note or an elaborate gift basket, our teachers deserve some recognition for the hard work they put in day after day, year after year.
I've gathered up some wonderful American Stationery items that our teachers are sure to love.
The first are the alphabet fold notes, which look like miniature chalkboards. Each note has the traditional, school board alphabet lining the top and bottom, a bright red apple in the lower left corner, and can be personalized in a handwritten font. Each set comes with 24 notes.
The next two items go together quite well. These adorable, red apple teacher pads make great teacher gifts! The best part is you can personalize them with your teacher's name, and you can choose from a variety of colors and type styles. The even better part is you can purchase a Sheaffer Pen to match! These ballpoint pens come in nine different colors, and you can add a personalized engraving.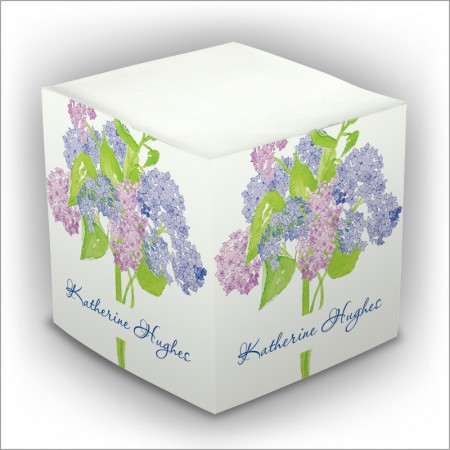 Finally, these personalized self-stick memo cubes have a beautiful lilac floral design and will feature your teacher's name. (You can also find a Sheaffer Pen to match these!)
Teachers don't do the work they do for the gifts or recognition. They do it because they genuinely want to teach and make a difference in the lives of students. I hope that you'll consider brightening their day, and giving them a thoughtful gift that shows you appreciate what they do for your student.