I don't know if there is something in the water or what but, it seems like a lot of people I know lately are pregnant. I personally, am decidedly done having children but, many of my friends haven't even started. Because of this, I am getting very excited to buy baby stuff to help keep the inevitable baby fever at bay.
Many moms-to-be get very excited when it is time to start decorating the nursery. What theme to go with, what colors, to add a day bed or not. The list of decisions moms and dads face when designing the nursery are vast and vary from family to family.
But, one thing all nursery's need is a Rocking Chair. This is a beautiful rocking chair handcrafted with your child's name.
Each rocking chair is custom made when ordered to fit your child's name perfectly. The letters are painted in your choice of vibrant primary colors or chic pastels with non-toxic latex paint. Imagine your child sitting in this chair and rocking, reading a book or pretending to and enjoying this fine crafted item for many years to come. This chair is made for children ages two to ten and will make a beautiful addition to any child's room.  Some assembly is required for this item and the maximum amount of letters allowed is 12. We do not allow spaces or accent marks. Your little one will adore sitting in their own personal chair with their name on it! Using it to rock their stuffed animals or to read their favorite book will be just some of the many uses they will find for this lovely chair.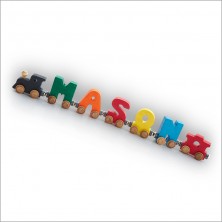 Another functional yet decorative gift would be our new personalized Toy Chest. This toy chest is ideal for any nursery and will fit in to any themed room. It seems that once they are born everyone starts buying toys for the babe. It doesn't matter how young or old they accumulate toys rather quickly. That's why having an attractive place to hold them all in place becomes so important. This toy chest is 16″ tall , 27″ deep and 32″ wide and is made of maple and birch woods. The item is handcrafted and will have your child's name printed in block letters on the front. The letters can be printed in pastel or primary colors and are only painted with non toxic latex paints and lacquers. The chest features a child safety hinge to protect small fingers and does require some assembly. This chest will be sure to last a long time for your child and the timeless design will fit into any bedroom theme. Because this item is handcrafted, you will need to allow for about four weeks for delivery. This sturdy chest is available for $199.99 and will look darling in any room. When you place the order, please specify the child's name and whether you would like primary or pastel paints. We can fit up to 12 characters and can not print spaces or accent marks.
I have two boys so I can only speak from my perspective but, trains are such a big deal to little guys! I'm sure they probably are to many little girls as well. Whether it is the plentiful children's shows or the fact that there is a running railroad in a neighboring city, trains have always been a big deal for my sons. That's why I squaeled with delight when I saw the Name Train.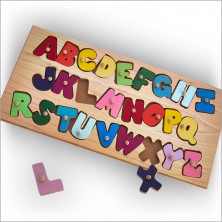 This hand carved and painted train features your child's name as the focal point! How fun will it be teaching them to learn their name while they are playing! The individual train cars attach to each other with magnets. The set comes with an engine and a caboose for just $12.00 . Each individual letter is hand crafted and finished in a non-toxic primary paint. The letters are sold as $6.00 a letter. We can fit up to 12 characters and do not allow spaces or accent marks for this item. The longer your name the longer the train, however each individual letter measures around 2 1/4″ tall. Because this item is created at a separate location, we do not allow for gift wrap or message and it will take approximately three to four weeks to arrive as each one is hand created when the order is received.
I seriously can not get enough of these wooden items. They are durable which is hard to come by for children's items and really different which is a huge bonus when trying to keep the attention of little ones. The Alphabet Puzzle is our take on the tried and true letter puzzles. Each letter is hand crafted and features and easy to grip peg perfect for small hands. Each alphabet puzzle comes on a large 10″ by 20″ base with letters that are 3/8″ thick. The various colors make each letter unique and the angled way the letters are displayed makes them fun to put back together. It is easy to have fun and learn with your little one, with this puzzle. The price is $52.95 for this large wooden puzzle and is available to you in about three weeks.
Maybe you are buying a handful of small things and making a basket for the mom to be? If that is the case then the Baby Baby Calendar is a great little gem to add to your basket. This 52 page tear away calendar measures out to a large 11″ by 8.5″ and has spaces already allotted to things like diaper change and feeding, which makes getting baby and mom on a schedule super easy. For $3.95 you can help mom stay on top of all of baby's to-dos and keep herself feeling in some sort of control.
If this baby is number two or three then you may consider purchasing a second calendar the Mom's Weekly Planner. This calendar is also made of 52 sheets of pre-printed sheets containing areas to fill in with everything from date night to errands that need ran.  For just $3.95 this little calendar will help keep even the busiest mom on top of her game.
Keep in mind that most moms whether seasoned or brand new are happy to receive just about anything. So as long as the gift comes with a warm smile and an understanding heart your gift recipient will be happy.