There's nothing quite like opening the dusty blinds and cracking open a window on that first 60 degree day of spring. Sunshine beams into your home, fresh air swooshes in, and instant happiness fills you. Even the animals are happily sunbathing in their favorite spots around the house. After what always seems like the worst and longest winter, you're feeling rejuvenated and motivated to start on that list of home projects you swore you'd begin in the spring.
Well, there's no time like the present. Don't put off for tomorrow what you can do today. Get out your mops, buckets, calendars, and bins; the annual spring cleaning and organizing binge awaits you.
There are plenty of ways to begin this task. You can organize your closets, wash the walls and windows, clean the carpets and furniture, reorganize your bookshelves, and if you're really looking to brighten up the home, repaint the bathroom or kitchen and add in new textiles to create a fresh mood.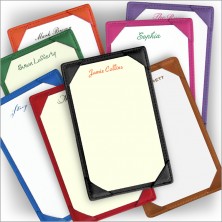 My two favorite aspects of spring cleaning and organizing is buying new bins and baskets to organize different products and items around the house and focusing on personal organization. I am that person who has four different calendars, three different productivity/to-do list apps on my phone, a planner, and a note pad to write down grocery lists or simple reminders. The spring season always inspires me to find new, simpler ways to organize.
American Stationery has four great products that save my life, and they're extremely stylish. What more could I ask for, right?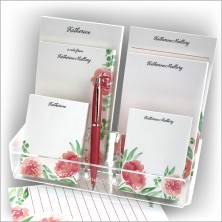 The Pink Gumballs Calendar is not only bright and cheerful, but it's completely customizable. I can choose the font, put my name at the top, and use the left-hand column for the different areas of my life. It is a 52-week calendar versus your standard monthly calendar, so you have more space to plan out your weeks and make notes.
The best part is I can get the Leather Note Holder to match and have space to create detailed lists or notes. The holders come in purple, hot pink, tan, black, green, red, orange, or blue, and includes white or ivory personalized lined notecards.
My final favorite items match – the Watercolor Floral Pad Set & Acrylic Holder and the Personalized Self Stick Memo Cubes. The light and bright floral pattern to these are what truly sold me, and all can be personalized! And, let's face it; florals are always "in" for spring. The memo set includes two small, two medium, and two large memo note pads, totaling 600 sheets of paper. The self-stick memo cube has 675 sheets. These items are great to spruce up your desk area at work, too!
We wish you well on your spring-cleaning and organizing endeavors!