To many folks, the style of days gone past isn't just old fashioned or boring, but interesting and new to us. From the fashion world to the stationery world vintage items and retro items pop up everywhere. Those of us who like to stay on trend or just like the retro look of things know that some looks never go out of style. If you are looking to purchase some  signature pieces to add to your stationery collection  or maybe just to add a couple extra items pop with a vintage design then, look no further than American Stationery.
The Canterbury Notes have all the colorful designs that we think of when we look to the styles of the 1970's. The vibrant colors of fuchsia, brown, lime, and yellow really make this folded note catch your eye along with the retro floral design and use of many different styles all in one. In the center surrounded by a square frame is your name. When you open the note up revealed inside is a plain white space ready for your message to be written. Each set contains 20 notes with 20 plain envelopes for $32.00.  Your wording will be printed in flat ink in the type style of your choice.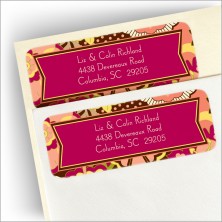 For an additional fee of just $18.00 we can print your return address on the back flap of the envelope in matching font. So send that note to your best friend and give her the skinny on your recent adventures.
If you would rather order labels instead of having the return address printed on the envelope, look no further as we have matching address labels available. Our matching Canterbury Return Address Labels are traditional sized labels featuring a mini version of the design featured on our note cards with a large space for your name and address to be printed.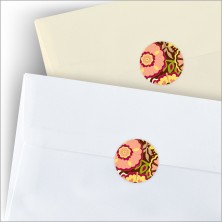 For $12.95 you will receive sheets of 60 address labels with your information printed on them. Use them with the note cards or just on your daily correspondence and bills to help send a groovy vibe to the recipients.
If you would like to brighten up your envelopes then you will love the Canterbury Stickers! That's what these stickers are for! For $27.95 you will receive 70 1 1/2″ round stickers with the matching Canterbury design. These stickers look far our  on the back of envelopes.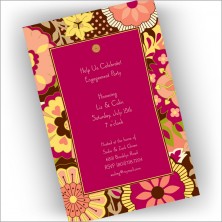 They can easily be used for other decorative purposes as well. They are the ideal way to seal the envelope when using any of the other Canterbury design items including the Canterbury Invitations. These 5 3/4″ by 8 3/4″ invitations have the same beautiful floral design and feature a large area in the center for you to personalize them to fit your particular party need. With room for the name of the event, the venue, and the time you can complete the look with the stickers on the back of the plain white envelopes.  One set will give you 20 flat invitations with plain envelopes for $36.00. So if you are thinking about having a trippy, hippie party these invites may be just the ticket!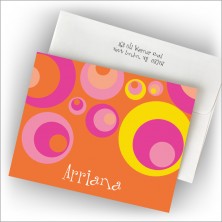 All the fun trippy designs of the late 60's early 70's are always so colorful and inviting it's no wonder they are a trend that tends to repeat itself in popularity. Like the Hot Italiano Fold Notes. These totally trippy folded notes feature a hippy trippy design on the front in bold colors like hot pink orange and yellow.  For $32.00 you will receive 20 folded note cards. Your name is then printed at the bottom in the center in your choice of font.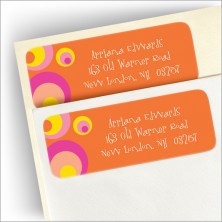 From something classy to something equally as funky you are able to decide how your name will appear. The inside of the fold note is completely blank allowing you to pour your heart out if need be or just jot down a few lines. . These folded notes come with plain envelopes and are ideal for any young writers on your gift giving lists. With the option to have the return address printed on the back flap of the envelope for $18.00 you can show you are a free-spirit who still has it all together.
Of course if you would rather keep the design flow going there are always matching Hot Italiano Address Labels. The labels showcase the matching circular design with a large orange area for your name and address one set comes as 60 labels for just $12.95 which means you can liven up all of your correspondence for a while! Again, if you choose you may select a type style to mix or match as long as the wording fits. These labels are ideal for your envelopes that match the note cards or to go with daily mail from bills to other correspondence.
The Italiano Stickers with circular shapes of hot pink, yellow, and orange. These seals will look wonderful on the back of a spring invitation or used as decoration on different stationery items or to seal an envelope. They come as a set of 70 1.5″ stickers for $27.95.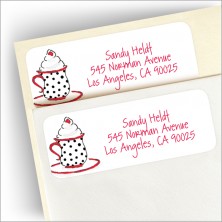 This far out design is sure to please those young and old alike as a great addition to a gift of stationery.
If you would like to take a trip back to your grandmas kitchen then look no further than the Ice Follies Return Address Labels. These adorable address labels are ideal for the person who wants to reminisce of days spent sitting at grandmas kitchen enjoying a cup of hot cocoa or coffee. The adorable design comes in a very 50's looking red, black, and white.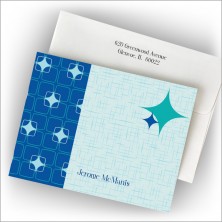 For $12.95 you will receive sheets of 60 address labels ready to go on birthday cards and bills alike. Your children and grandchildren will delight in the look and may want to grab a cup of cocoa with you after receiving a label on their mail.
A personal favorite of mine is the Starbursts Fold Notes. These notes take me back to black and white re-runs and my grandmother's dining room. This design proves that the stylings of the 1950's are still popular.The starburst design is just so very retro and the cool shades of blue really makes it  tie together.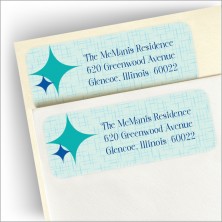 For $32.00 you will receive a box of 20 notes with blank envelopes the inside allows for plenty of room to write your message. Why not try using lingo from the 50's in these note cards? Write your daddy-o a message to tell him he is very cool in your eyes still.
Like so many of our other items you may purchase matching Starbursts Return Address Labels as a set of 60 for $12.95 or even envelope seals a set of 70 for $27.95 as the Starbursts Stickers.
If you are in need of gift enclosures then look no further than the Hand Bordered Gift Enclosures. These classic enclosures feature a lovely hand border along the edge and allow for your name or monogram in the center. The gift enclosures may look a little like a fold note but they are much smaller measuring out to just 3.75″ by 2.875″. They are the perfect size for a little to from message and not much more. They look absolutely stunning next to your package and come in a set of 25 enclosures for $34.95. Due to their small size we are not able to print on the envelopes they will come plain with the notes.
Of course we have many other designs available that may touch a nostalgic note with you. So we invite you to explore our website and find the stationery that speaks to you and your love of a decade gone by.