We all have our favorite things. Whether it is food, sports, or author. But, one of the first things you ever truly have a favorite of is a color. I can remember hot pink being the new big deal for me and all other little girls who grew up in the late 80's and early 90's but, as I grew older my love fell to the color green again and again.
Maybe it is because I grew up a farm kid and the wide open spaces of green pastures and gardens ready to be dug into are comforting. Maybe I just wanted to not conform to the typical blue and pink.
I think it's probably a mixture of both. I love the calming feeling a nice grass green or sage gives me. Green looks terrific with my skin tone. So why not? I tend to love all things green. Whether it be fabric for my clothing or decor for my home. Green gives me a sense of tranquility.
At American Stationery we have plenty of items available for you in whatever color is your favorite and that includes my favorite.
The Rhomboids Desert Stickers and they are so funky I almost can't handle it. They look terrific on the back of a note, letter or holiday card. With fun geometric shapes in muted browns, greens, and taupe they add the perfect touch to any piece of correspondence. One set comes as 70 self sticking labels for $27.95.
If you like this design then, keep looking on our website as we also feature fold notes with the same design. The Rhomboids Desert Fold Notes feature the rhomboids geometric design on the front of the note with your name personalized in a solid white area to the bottom right. Inside you open the note to reveal a full blank white area with ample room for even the most spirited writer. Each set comes with 20 notes and plain envelopes for $32.00. As with most of our items, if you would like, you may have the return address printed on the back flap for an additional cost. Or you could always order the Rhomboids Desert Return Address Labels.
One set of address labels comes with 60 in total of self stick labels. With plenty of room at the top for your name and address, the fun design borders the bottom of the label. Use them in combination with the seals or without for a bit of flair added to your daily correspondence.
If just a small bit of color is more your groove, then the Apple Green Hand Bordered cards may be just the thing for you. These hand bordered correspondence cards have a thin apple green border and feature your name or monogram at the top of the card. They are flat and measure out to 6.25″ by 4.5″ which makes them ideal for a quick note. They come as a set of 25 cards with plain white envelopes. There are various liners available for the inside flap of the envelopes for an additional fee or you may have the return address printed on the back flap for a fee as well.
It's always a great idea to have a little something on hand when we need to send a gift. The DYO Gift Enclosure Cards – with Monogram is an ideal item for that occasion. With a small fold note and matching envelopes you can personalize the outside with your monogram in your choice of type and in any ink color, like green! The envelopes can not be personalized due to their small size.  One set comes as 50 enclosure notes with plain envelopes for $32.95.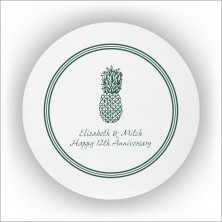 I entertain a lot and always have a winter party. Around the holiday's there is no shortage of decor and other items in my favorite shade of dark green. So naturally I purchase all kinds of party products in deep green including the DYO coasters. These coasters are both durable and decorative. With a solid 4″ diameter they have a deep three ring letter press design out side of your choice of name and design or monogram. You may choose the typeface for either one and customize it to say whatever you like so long as it fits. 100 coasters comes with a holder for $34.95 and can ship to you in a little over a week.
So if green is your favorite shade, then you should have no problem finding an abundance of beautiful items to choose from at American Stationery. A quick search on the website for the word green will yield you many results for you to choose from.