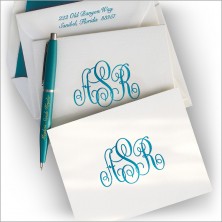 Earth Day is one of my favorite days of the year. It's a day when I'm reminded to be kinder to my home and to appreciate how incredible this planet is. Earth Day's main aim is to inspire awareness of and appreciation for earth's environment; we only get one!
I do my best to recycle, use my reusable water bottle daily, reduce my use of Styrofoam cups, and use my reusable grocery bags. Taking shorter showers, turning off the lights, and using reusable containers for my lunches are other actions I try to take to help preserve our wonderful planet. Of course, I'm not perfect, and these actions are often difficult to make habits as we lead our busy lives.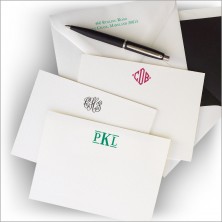 At American Stationery, we do our best to "go green" and provide items that are friendly to Earth and to you. If you're ready to restock your stationery with note cards and thank-you cards, I hope you'll consider these items, which are made on the highest quality 100 percent cotton paper.
The first is the Letterpress Note with the Monogram. We already know I love the monogram, so the fact that I can have it printed on 100 percent cotton paper makes it even better. With old world letterpress imprinting, you have your choice of ink colors—black, brown, navy, orange, hot pink, navy, turquoise, wine, or hunter green (also perfect for Earth Day!). The set includes 25 notes and white plain envelopes. When you hold these note cards in your hands, you'll feel and understand the high-quality craftsmanship that went into your stationery.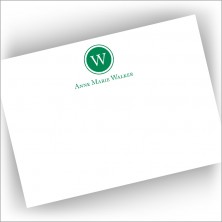 The second is the Letterpress Cards, which are very similar to the notes I previously described. These cards also feature the monogram, you have a choice of ink colors, and you can choose a font style. These single cards are perfect for a quick note of appreciation or thank you!
The final item on our 100 percent cotton paper is the Letterpress Cards with a Signet Initial. These cards feature a single block initial with the name underneath and come in a variety of colors.
Remember to thank Earth for all it does for you, and give back a little this year as you purchase your new stationery. Happy Earth Day!