If you're anything like me when it comes to gift giving, you're competitive. You like to give the best gift, something personal, something thoughtful, and watch the recipient nearly cry from happiness. Everyone enjoys a gift that truly speaks to their personality, their interests, or their style.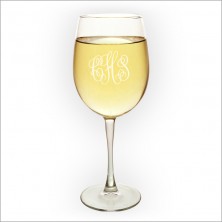 Recently, I've become obsessed with monograms, and I'm assuming you have, too. It's the perfect way to personalize anything and everything; it's the gift that says, "Hey, I've really thought about YOU!" And the best part: you can slap a monogram wherever you see fit.
If you aren't familiar with how the monogram works, I've included some tips below.
Adults can use a one-initial, two-initial, or three-initial monogram for personalization. Single-initial monograms feature the last name initial, and the two-initial monogram combines the first and last initials. Pretty simple, right? These are not as common as the three-initial monogram, but they are equally great for personalization purposes.
The three-letter monogram is the most traditional, and there are a variety of ways in which you can design it. One of the most common for single adults is to order the initials first, last, and middle, with the last name initial being larger in the middle and the first and middle initials being smaller and on either side. If you don't like the idea of the last initial being larger and centered, you can set up your monogram to have all the same size letters with the order of first, middle, and last.
If you are married and want your monogram to represent you and your spouse, you can set it up like this: her first initial, married last name, and then his first initial. It's also become common for a married couple to use the woman's monogram only, and you can set those up two different ways. The first uses her maiden name as the middle initial, so the order would be her first initial, married last, and maiden initial. The second is more common and uses her middle name; the order would be first initial, married last, and middle. In all of these options, the initial in the middle would be larger than the two on the sides.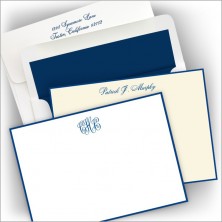 Before you go monogram-crazy and begin personalizing your towels, wine glasses, and ordering clothing, make sure the monogram isn't an awkward set up, meaning it doesn't spell an odd word. Carla and Thomas Atkins, who wants to set up their monogram featuring both of their initials, might not want "CAT" printed on everything. They may love cats and have 12 of them running around their house, but they may not want all of their personalized gifts to say so.
At American Stationery, we love the monogram just as much as you do, so here are some stylish, affordable (you guessed it) stationery items to feed your newest and healthy personalization addiction.
The first are the popular classic Navy Hand Bordered Correspondence Cards, with matching raised ink personalization. You also have a choice of solid navy blue, navy blue floral, or a variety of other lined envelopes. These are perfect thank you or thinking-of-you notes!
The second are the Venerable Chits that are perfect for a business note or an informal one. Want to tell a coworker they are doing an excellent job and brighten up their day? These are perfect for that purpose. The monograms come in plenty of designs and colors, so you can add a bit of your flair, style, and personality.
The final item we'd like to share with you are the Letterpress Chits that feature a monogram and a flashy design. These, like the first item, come with an envelope, and are great for saying a quick thank you.
Regardless of if you're single or married, using a monogram to personalize a gift is one of the best you can give to others and yourself. If you are married and your one-year anniversary is quickly approaching, these would be the best gifts to give in the tradition of celebrating your first year together. Now it's time to put this info to good use. Ready, set, and monogram!