This is Part II to How to Start a Business – Part I
Plan your operations. Who will lead, and who will follow? Define your organization, from the receptionist up to the CEO, and what part each plays in both function and financials. Knowing your organizational structure will better help you plan your operating costs, and fine-tune how much capital you will need to function effectively. Keep in mind that your business will continue to evolve and that this will be a rough idea of who is needed to keep things functioning; as the business grows, you'll likely make changes to the hiring plans to fit what is happening at the time. Also, in a number of cases, the "staff" is you and whomever you can consult, such as your lawyer and accountant. This is fine, as long as you show that you're prepared to pay for external advice and help until your business is ready to take on staff.
Cover the financials. Succinctly, this describes how much you plan on spending, and how much you're making. Since this is the most dynamic part of your plan, and perhaps the most important for long-term stability, you should update this monthly for the first year, quarterly for the second year, and then annually after that.
Consider finding an attorney or other legal advisor. There will be many hurdles to leap as you go from working stiff to overworked and underpaid small business owner. Some of those hurdles will be composed of stacks of documents with rules and regulations, ranging from building covenants to city ordinances, county permits, state requirements, taxes, fees, contracts, shares, partnerships, and more. Having somebody you can call when the need arises will not only give you peace of mind, it will give you a much-needed resource who can help you plan for success.
You'll want someone who can deftly handle your financials, but even if you feel you can handle your own books, you'll still need someone who understands the tax side of running a business. Taxes with businesses can get complicated, so you'll need a tax advisor. Again, no matter how much of your finances they're handling, this should be someone trustworthy.
Form a business entity. You'll need to decide what type of business entity you want to be, for tax purposes and hopefully to eventually attract investors. Most people are familiar with corporations, LLCs, etc., but for the vast majority of small business owners, you will need to form one.
A sole proprietorship, if you will be running (not including employees) this business on your own or with your spouse.
A general proprietorship, if you will be running this business with a partner.
A limited partnership, which is composed of a few general partners, who are liable for problems with the business, and a few limited partners, who are only liable for the amount in which they invest in the business. All share profits and losses.
A limited liability partnership (LLP), where no partner is liable for another's negligence.
Cover your start-up costs. How are you going to finance your business initially? The bank, venture capitalists, angel investors, Small Business Administration (SBA), your own savings: these are all viable options. When you start a business, be realistic. You will probably not roll out of the gate making 100 percent of whatever you project, so you need to have enough ready reserve to fund things until you are really up and running. One of the surest roads to failure is under-capitalization.
Business Cards – Business Style Make an impression that will last with our superior quality heavyweight cards. Available in a variety of ink colors and typestyles. (Monogram not available on this item) For a complete set, add our Leather Business Card Holder.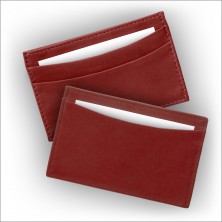 Manage your running costs. Keep a close eye on your running costs and keep them in line with your projections. Whenever you see something spent wastefully—like electricity, phone plans, stationery, packaging—look around, and estimate how much really need, and minimize or remove the cost in every way possible. Think frugally when you start up, including hiring items instead of purchasing them and using pre-paid plans for services your business needs instead of locking yourself into long-term contracts.
Build your product or develop your service. Once you have the business all planned, financed, and have your basic level of staffing, get going. Whether that's sitting down with the engineers and getting the software coded and tested, or getting materials sourced and shipped to your fabrication room (aka "garage"), or purchasing in bulk and marking up the price, the building process is the time during which you prepare for market. During this time, you may discover things such as:
Needing to tweak the ideas. Perhaps the product needs to be a different color, texture or size. Maybe your services need to be broader, narrower or more detailed. This is the time to attend to anything that crops up during your testing and development phases. You'll know innately when something needs tweaking to make it better or to make it less like a competitor's stale offerings.
Getting feedback. Friends and family make great resources for asking questions and getting feedback––don't hesitate to use them as your sounding board.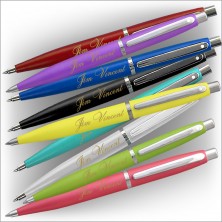 Needing to increase the size of your premises. This happens more often than expected. Once the stock starts piling up, you may find it ends up in your living room, bedroom and the garden shed. Think rental of storage premises if needed.
Sheaffer® Pen Add some color to your correspondence with this Sheaffer® ball point pen. Personalize this unique pen and it turns into the perfect gift for any occasion.
Launch your product or your service. When the product is all built, packaged, coded, online, and ready to sell, or when your services are fully worked out and ready to go, hold a special event to launch your business. Send out a press release, announce it to the world. Tweet it, Facebook it, let the word resound to all corners of your market—you have a new business!