Spring has sprung and with that, we have several new items to unveil to you. By clicking on the new arrivals link on the website you can take a peek at them. Personally I am excited by all of the new items for the children. Especially the artsy stuff.
In my house, we are pretty creative and we like to get messy. With two young boys that means I am always coming up with new ways to not only be creative but, keep the mess in check. Luckily, with some of these new items offered by American Stationery we can get messy in style and keep some of it under control.
Cooking is a big part of most everyone's life and my family is no exception. We like to grow our own food and make our own dinners. My seven year old is currently very into cooking and baking. It's a lot of fun watching something you put in the oven come out much differently then when you put it in there. Of course it also allows me to teach about, creativity, math, and science so it's a bit of a sneaky way of learning. Something that my seven year old is not great at though, is being a neat chef. But, hey cooking isn't about being neat anyway. That's where the Boy's Apron Set will definitely come in handy. This toddler apron set features an apron that can be personalized. Having personalized items is fun for the young and old alike but, really helps your child appreciate what is theirs and take care of their items.
The set also comes with a hat which has an adjustable strap allowing the hat to grow along with your child. The apron features front pockets to hold all the utensils your assistant may need during his time in the kitchen. The fabric for the boys apron comes in a vibrant blue with red trim and is sure to hold up to all your munchkin can throw at it. For the personalization, you are allowed up to 20 characters and spaces. For your personalization, we do not allow any accent marks or punctuation. There is also a Girl's Apron Set which comes in pink with white trim, all of the other features are the same. One set is $41.95 and will take approximately four weeks for you to receive. This item does ship separately as it is created at a separate location and can not be gift wrapped nor can it be shipped to a P.O. box.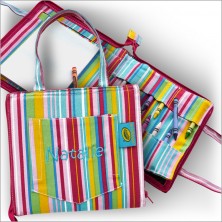 If we aren't cooking in the kitchen, we are probably drawing or painting. So the Girl's Crayon Bag and the Boy's Crayon Bag sound fantastic for us. This is our new doodlebag and is a traveling activity kit that zips up! This fashionable kit features a mini chalkboard with Crayola colored chalk and eraser. Also inside is a mini coloring pad, eight Crayola crayons and plenty of pockets to hold everything in place. I wish they would of had something like this when I was a kiddo. My favorite way to pass the time in a car trip was by drawing and I have definitely passed that on to my kiddos as well.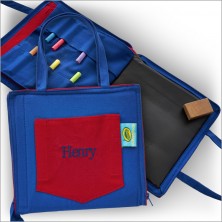 We love our video games but try to stay as unplugged as possible. Being creative and drawing picture for grandma and grandpa on the trip to their house is a great idea. This bag zips up to keep everything in it's perfect place. Once finished with one project just turn the page to start something new. The girls bag is colorful with shades of pinks, greens, teals and yellows. The front is personalized with the child's name and will arrive in about three to four weeks. The price for one set is $34.95. The boy's kit comes with all of the same items and is sold as a kit with solid red and blue fabric without stripes. This item also will ship from a separate location and can not be gift wrapped.
With an adjustable hook and loop closure, the Girl's Crayon Apron is a great choice for your young budding artist. This girl's crayon apron is $34.95 and can be personalized with up to 20 characters and spaces. As with other similar items we can not print accent marks or other characters. This striped apron is the perfect size for a toddler and comes in bright colors sure to inspire any young artist. The apron has slots to fit multiple crayons and a pad of paper. The apron comes with a box of 24 count crayola crayons. This item like the others above takes longer than most items due to the personalization and can not be shipped to a P.O. box.
So take a long look around American Stationery and see what other items you can purchase for your little ones to help boost their creativity.