Have an idea? It might be a product you've always wanted to make, or a service you feel people need. It might even be something people don't know they need yet, because it hasn't been invented. Starting a business involves planning, making key financial decisions and completing a series of legal activities.
Are you one of those who dream of owning your own business? You'll be your own boss, and the captain of your destiny—–maybe even a captain of industry. Is it hard? Without a doubt. Is it challenging? Absolutely. Do you have to be wealthy and well-educated with a lengthy resumé? Not at all! Can you do it? There are some tried and true ways head down the path of creating your own business, and there is no time like the present to get started!
Have an idea. Start with a simple question like: "what shall we build?". The idea is not to create a business plan, just to generate some ideas. Many of the ideas will be duds, and there will be quite a few ordinary ones, but a few will emerge that have real potential.
Define your goals. Do you want financial independence, eventually selling your business to the highest bidder? Do you want something small and sustainable, that you love doing and want to derive a steady income from? These are the things that are good to know very early on.
Marble Desk Set The perfect addition to any desktop! This jet black marble desk set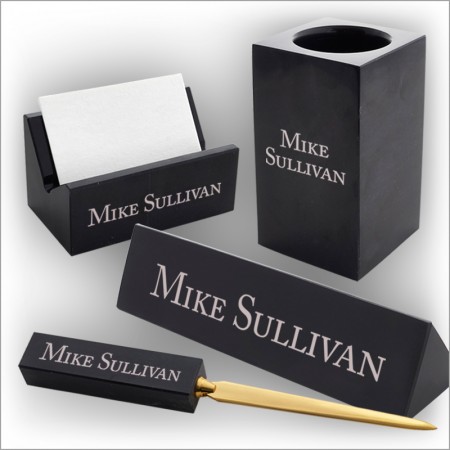 includes a Name Plate, Pen Holder, Square Business Card Holder and Letter Opener, which are engraved with your personalization in a frosty white color that shows excellent contrast. Name Plate: 8″ x 2″ x 2″ Pen Holder: 2 1/2″ x 2 1/2″ x 4 1/2″ Business Card Holder: 4″ x 2 1/4″ x 2″ Letter Opener: 8″ x 7/8″ x 9/16″
Create a working name. You could even do this before you have an idea for the business, and if the name is good, you may find it helps you define your business idea. As your plan grows, and things begin to take shape, the perfect name may come to you, but don't let that hinder you in the early phases—–create a name that you can use while you plan, and don't mind changing later.
Define your team. Will you do this alone, or will you bring in one or two trusted friends to join you? This brings a lot of synergy to the table, as people bounce ideas off each other. Two people together can often create something that is greater than the sum of the two separate parts.When choosing the person or people you're going to build the business with, be careful. Even if someone is your best friend, it doesn't mean that you will partner well in a business operation. Start it with a reliable person.
Do you see eye to eye on the big picture? Arguments about the details are a given, and are important for getting things right. But not seeing eye to eye on the big picture, the real purpose of your business can cause a split that may be irreparable. Be sure your team cares about the and buys into the purpose as much as you do.
If interviewing people, do some reading on how to spot real talent beyond the certifications, degrees or lack thereof. People's innate talents can often be somewhat different from the conventional education streams they've pursued and it's important to look for talents as much as paper credentials.
Create a business plan. A business plan helps to define what you think you need to launch your business, large or small. It summarizes the sense of your business in a single document. It also creates a map for investors, bankers, and other interested parties to use when determining how they can best help you and to help them decide whether or not your business is viable. There are seriously good books available on writing business plans that cover many chapters, and you should avail yourself of at least one of these as a guide./
Come up with an executive summary. There will need to be several basic parts in your business plan. The first is the executive summary. Describe the overall business concept, how it will be monetized, how much funding you will need, where it stands currently, including its legal standing, people involved and a brief history, and anything else that makes your business look like a winning proposition.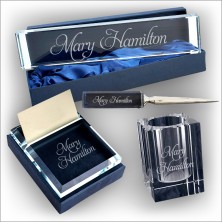 Glass Desk Set The perfect addition to any desktop! This glass desk set includes a Name Plate, Pen Holder, Square Business Card Holder and Letter Opener, which are engraved with your personalization in a frosty white color that shows excellent contrast.
Write your business description. Describe your business more specifically, and how it fits into the market in general. Who will you be selling to, and how will you deliver your product? If you are a corporation, LLC, or sole proprietor ship, state that, and why you chose to go that route. Describe your product, its big features, and why people will want it.
Come up with some marketing strategies. You must know your market if you are to be successful, so spend a great deal of time analyzing just who it is that will want your product, and how you plan on appealing to them to take cash out of their bank account and give it to you. What is the size of your market, will there be opportunities to expand the initial market, and what are your sales potentials? When you understand these variables, you want to sell them to the person reading your business plan.
Write your development plan. How will you create your product? Is it a service that you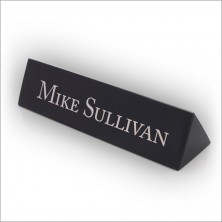 are offering, or if it's more complex—software, a physical product like a toy or a toaster—whatever it is, how will it get built? Define the process, from sourcing raw materials to assembly to completion, packaging, warehousing, and shipping. Will you need additional people? Will there be unions involved? All of these things must be taken into account.
Marble Name Plate This solid black Marble Name Plate is a great addition to any desktop! Your personalization is engraved in a frosty white color which has excellent contrast. Size: 8″ x 2″ x 2″
The continuation of this blog will be in our next post, How to Start a Business – Part II