Indiana weather takes us on an adventure this time of year. It's a rollercoaster of anxious ups filled with sunshine and warmth and gut-wrenching downs filled with clouds and chilly winds. There are some days that take us from 0 to 60, which is acceptable when referring to a rollercoaster and miles per hour. Alas, we all know 0 to 60 degrees is much more likely. And if we are really lucky, we get to witness an April snowstorm. Or an early March tornado. Adaptability is a top strength for the inhabitants of the Hoosier state.
The one constant to spring has always been the Easter holiday. We take solace in knowing we can gather with close friends and family to celebrate. Easter egg hunts, more chocolate than we know what to do with, hard-boiled eggs, and that fake, plastic grass that seems to shift into every crevice of the house are some favorite trends to the holiday.
A favorite of mine has always been enjoying the holiday with my younger siblings. They wake up to find an Easter basket filled with their favorite treats, they battle over who will gather the most plastic Easter eggs, and then we decorate hard boiled eggs, bake cookies and other treats, and help with dinner. I always remember it to be full of bliss, relaxation, and love (but that could be the copious amount of sugar from the Reese's Eggs I tend to consume).
I'm sure you can relate to some of these aspects of the holiday, and luckily, American Stationery can, too. We have great products that will allow you to make this Easter personal and special for your loved ones.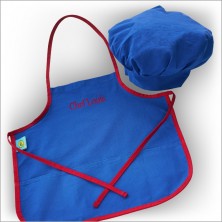 Decorating hard-boiled eggs and making those favorite Easter treats wouldn't be complete without these personalized apron sets. Don't let your little helpers get their best dresses and snazzy suits ruined! Girls and boys alike can create an Easter feast in style.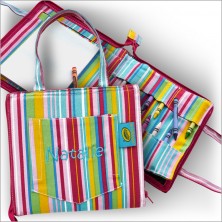 For your toddlers and younger children who are more focused on their Easter baskets than the Easter cookies, we have options for you, too! The Doodlebag is a traveling activity kit complete with a coloring pad, mini chalkboard and eraser, crayons, and chalk that zips up into a convenient, small bag. If you've got a long drive to visit family and friends, this item would be perfect for you and your kiddos!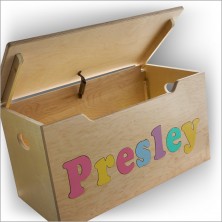 Finally, if you want to go all out, consult with the Easter bunny about ordering a personalized Easter Toy Chest versus the standard Easter basket. Have your child's name printed in bright block letters, and fill it with goodies. You can also choose to fill the Toy Chest with our alphabet and number puzzles.
We hope your Easter holiday is filled with love and joy, we hope your spring days are bright, and we look forward to celebrating with you. From the American Stationery family to yours, Happy Easter and Happy Spring!