Currently, I am on vacation in Florida. I have never been here before and so far I enjoy it quite a bit. I have to say though my favorite thing thus far about being this far south in the middle of March is the flowers! I am in love with all the flowers, the shrubs and the smells of them! The sun is great, the beach is amazing but, seeing all of this vegetation makes me anxious for my garden when I get back home. Even though it will still be a little early to plant much of anything still.
So while I am basking in the sunshine, I will enjoy the flowers and the view and dream of all the pretty things I am going to plant back home in Indiana.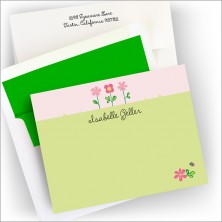 The Garden Correspondence Cards are a very fun and inviting choice to send out to all of your loved ones. The flat single panel card allows for a short or longer message. The top is personalized with your name just above a neat row of pretty pink flowers. The green bottom appears as a light grassy area and even shows a small flower with a tiny lady bug! The whimsical design will certainly brighten the day of whomever you send these card to. One set contains 25 cards with envelopes for $57.00 printed. If you choose to have a return address on the back flap or, a liner on the inside of the envelope, there are additional fees. These cards are printed on heavy card stock and should ship to you about five business days after the order is placed.
Even though I am on vacation, I still find myself trying to remember things to pick up or to do later in the week just like when I am at home. Which is way difficult even though, it's going to be fairly chilly when I return to Indiana in a week. The Whimsy Garden Memos with Holder will remind me of the warmth I enjoyed in Florida and the warmth that will greet me (not soon enough) in Indiana with whimsical floral designs. The notes come in a durable clear holder that holds 200 personalized sheets well. For $12.95 you will receive this set printed to you in approximately seven to ten business days. You can keep yourself on task with a smile on your face when you have these notes on your desk.
If you plan on hosting a soiree this summer or, if you are lucky enough to live in a warm climate then anytime would be a good time to order the Hibiscus Garden Invitations for your next party. These stylish cards are digitally printed on heavy card stock for vibrant and classy invitations. They are sold as a set of 20 for $36.00 with plain white envelopes. Each invitation has plenty of room for you to have all of your party invitation printed. This will be done in your choice of ink color and type style.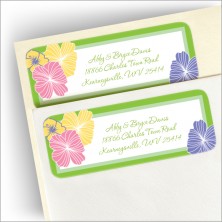 If you would like, you may have your return address printed on the back for an additional fee or order the beautiful Hibiscus Garden Labels which are the match your hibiscus garden invitations. They come as a set of 60 for just $12.95 so any you have left over can be used to brighten the day of those who come across a letter, or bill from you.
While I may at times wish I lived in a warm place with lots of things to do, I am typically pretty happy with the wide open spaces that I see daily at home. I have friends however who are just as envious of my abundant space as I am there abundant activities. These friends would adore the Window Sill Return Address Labels. These address labels will brighten their day and get their items to the correct destination be that rural or city. The 2.625″ by 1″ self sticking labels come as a set of 60 for $12.95. The purple flowerpots stand in a neat row just below your name and address.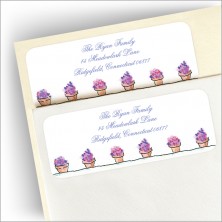 Something I tried to point out to my kids on the road trip down here was that there are different kinds of trees growing down south that we do not have at home. While the flowers are not without beauty of course, I'm a sucker for all plant life really and all the beautiful trees make me just as excited. The Pastel Nature's Silhouette Notes are a wonderful choice for yourself or that friend who loves the great outdoors. The set comes as box of 24 cards and envelopes with three different styles for $24.95. Your name is printed on the right hand side and opens up to reveal a large blank area perfect for long or short stories alike. As with most of our items, the envelopes will be blank unless you choose to have them printed on the back flap with your return address for an additional cost.
Speaking of trees, this is my kiddos and I's first experience with palm trees. We were all so excited we kept pointing them out everywhere. The Palm Passion Address Labels are address labels that are fun and bright just like the cities they grow in. Like most of our labels these measure out to 2.625″ by 1″ which is the typical size for most address labels. With a pink frame and a palm tree to the left you will still have plenty of room for your name and address. One set comes as 60 labels for $12.95.
If matching is important to you, then think about ordering the palm passion stickers to go along with your address labels. They have a pink and brown frame with a large palm tree in the center. These are not personalized and come as a set of 70 for $27.95. So you will have plenty to send around and spread sunshine. The Palm Passion Stickers comes as a perfect 1.5″ circle.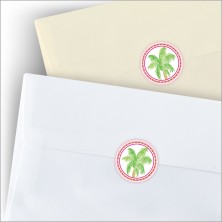 So the next time you are thinking about how much you would like to see flowers even though, you know it will be a long way off, consider purchasing an item from American Stationery and bring nature to your desk before you see it out your windows.