The time is coming, parents. Your kids will soon be done with school for the entire summer and you'll need to find some way to keep them entertained. That isn't really as hard as it sounds as long as you're willing to pay attention to what your kids like to do and find some way to encourage them to do it.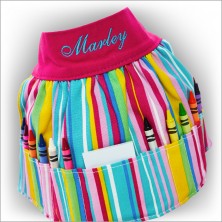 The summer can be a great time to bond with your children and maybe even let your own inner child come out to play. But it can also be a stressful time when kids can misbehave because of boredom. It's best to put a little bit of advanced planning into summer vacation and prepare yourself with an arsenal of activities to keep the little ones out of mischief.
Finding a few good activities for your kids over summer vacation will keep them busy and can help keep them out of trouble. Most importantly, most of these activities will give you the chance to bond with your kids and build a stronger relationship with them while school is out. Some of these activities will require a little bit of money but there are plenty of options for a family on a fixed income.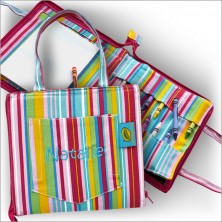 Girl's Crayon Apron For the budding artist, this pink striped crayon apron keeps her favorite colors at her fingertips and makes the perfect personalized toddler gift. With adjustable hook and loop closure in the back, it will grow with your child. Each apron has front pockets to hold multiple crayons and a pad of paper. A box of 24 count Crayola crayons is included.
Girl's Crayon Bag The Doodlebag is a traveling activity kit that zips up to hold a coloring pad and a mini chalkboard all-in-one. Unzip to unlock the creativity with a coloring pad on one side and pockets for crayons for coloring fun. Then, turn the page to start a brand new creative project with our mini soft chalkboard and eraser. Each Doodlebag comes complete with a pad of paper, 8 Crayola crayons, 12 colored Crayola chalk, mini soft chalkboard, and a mini chalkboard eraser.
Family night should start with dinner and last right up until bedtime. Make dinner together as a family. With younger kids, you can stick to simple things like having them help you put toppings on a pizza or nachos. With older kids, give them a more hands on role. Challenge them to make the salad or make homemade sauce for spaghetti. Continue this with the snacks for your family night.
Have every member of your family make one snack for family night. Younger kids can help you bake cookies while older kids can be given the ingredients to make a snack all on their own. Don't set limits on what they make. It's their job. Give them the freedom to do it. You never know, you might help them discover a love of cooking that could encourage them to pursue a career as a chef.
Play games as a family with the winner choosing a movie to watch or a game they'd like to play next. Card games are inexpensive, fun and competitive, so they're always a great option as are board games. If you don't have many board games, go to a thrift store or a discount store and see what they have to offer.
Kids' Critter Notes Inspire young writers with our colorful notes. Choose a critter design and ink color and personalize with a first name. Makes a great gift for the young writer. Folded Size: 5″ x 3 1/2″
Game Pad Set Three game pads (Tic, Tac Toe, Hangman, and a Doodle Pad) offer a child three long-loved forms of entertainment to enjoy anywhere.
The great outdoors can offer more benefits than you can imagine. Encourage your child to get some fresh air and pull away from the TV. Try taking a bike ride around the neighborhood, or set up a slip and slide in the backyard. This will keep your child healthy and active. Search for a local nature trail. This is also a great opportunity to teach your child about plants and animals to keep their minds active.
Take nature walks. Go on nature walks with a purpose. On the beach, collect shells and stones to later make a shell castle or shell and stone sculptures. In the forest, get kids to seek out different sorts of bugs, plants or trees. Alternatively, give them a map to plot the route you are taking. By giving them control and a plan will ensure they don't get bored too quickly.
Growing a summer vegetable garden can also be an enjoyable activity for you and your family. Even a few flowerpots filled with various plant seeds can be a fun way for your kids to get their hands dirty as they learn about nature.
Summer camps are numerous these days, ranging from stained glass workshops to flag football leagues. Enroll your child with a friend into a camp of their choice. This will give you a nice break and also allow your child to make new friends. Overnight camps are an exciting experience and many are centered around lakes or mountains. Overnight camps can give your child a sense of independence and are bound to leave lasting memories.
Organize a water balloon or water gun fight. It's steaming hot during the summer, so it's the perfect time to get wet! Also, something that involves shooting from water guns or throwing water balloons will keep your kids entertained for quite some time! Try organizing the fight somewhere other than just outside of your house, like a park. It's good to get away from the house too.
Boys Will Be Boys Cards These multicolored flat correspondence cards, displaying a variety of boyish things, are sure to be a favorite for that little boy on your gift list.
Baseball Fold Notes If you have a baseball fan on your gift-giving list, these notes are the perfect choice. Personalized on the outside, the notes are blank inside for a personal, handwritten note.
Go swimming. If you are lucky enough to live near a pool, go swimming when possible.A pool has a calming effect on children and the amount of energy used in the water means that they won't be quite as active when they get home. A pool party is a great way to get everyone cooled off, and have fun with friends, family, neighbors – whoever it may be! This will definitely keep your kids busy for long!
Some other enriching activities for the whole family are going to museums or visiting historical sites. Search your local area for kid-friendly exhibits, and classes. Many museums offer a monthly, free family day. Hands-on science museums are another exciting way for your child to stay active, during those lazy summer days. The local library is also a wonderful place for your child to visit. Check out books and movies, and make it a fun weekly event.
Have a garage sale. Get the kids to clear out their rooms and have a garage sale. You could sell some of your baking products and make lemonade. Pool all the money together and use it to pay for an outing for the whole family.
Get your kids involved in some reading. Try buying or checking out books, or getting them to read things other than books, such as magazines or a newspaper. Reading magazines and newspapers helps your children stay informed with what's going on in the world. Use your local library regularly. In most libraries you can get more than books; you can get movies and music. Make a day out of it. Do some reading while you're there instead of getting some books and heading home. Give your children a love of books — it is one of the best gifts you can give them.
Plan some play dates and invite friends over. While they spend time with their friends it may give you the opportunity to get some work done and perhaps even connect with other parents.Plus…the invite may be returned some day.
Encourage the little ones to keep a Summer Diary or scrapbook. They can take photos of special days and write about them. It will become a lovely memory book for them in the future — and also keep them busy for hours.
Once a week plan a cooking or baking day. Involve the kids in the process from the beginning — let them chose from a selection of recipes that you have ingredients for. If the child can read, get them to read from the recipe book. Step by step, help them to work through the instructions.
Also be sure to get the children involved in the planning. They will be less likely to complain about the activities chosen if they have taken part in the decision-making. Have a range of activities to select from: stuff to do at home, in the garden, outdoors, and the odd activity that cost money to do.
Plan at least one summer vacation event, whether it's a road trip or a weekend theme park adventure. Taking a family vacation will give your whole family a chance to spend time together. It is their summer vacation after all, so be sure to relax with them. Enjoy a few of these fun activities and you child is bound to remember this summer for years to come.