While we have plenty of items in fun and fabulously bright colors, sometimes we just need some correspondence in a neutral color. Whether it is for work, or just because you would like something a little more laid back for  a change, American Stationery has plenty of fun items in a neutral palette.
You may think neutral shades are just plain boring, but nothing could be further from the truth. If anything ordering stationery in a neutral shade allows for an abundance of versatility.
Like our Brown Bordered Correspondence Assortment. These correspondence cards come in four different stunning brown borders. The flat cards  measure out to 6 1/4″ by 4/12″ which allows plenty of blank writing space and will have your name printed at the top in your choice of ink color and type style. You may choose white or ivory paper as well to make this card truly your very own design.
One set comes as 32 cards with 32 plain envelopes. You will receive eight of each of the four shades and may choose to have the envelopes printed on the back flap with a return address for an additional fee or you may really kick up the style a notch by choosing one of our fun envelope liners also for an additional fee. If you choose however to leave the envelopes plain, the set will cost $30.95.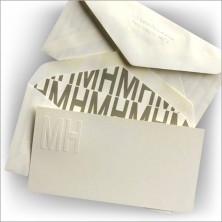 For me an embossed card is the look of sophistication. I love the way they look and feel. The Royal Slender Cards is a perfect item to use when you want to mix classic with contemporary. These slender correspondence cards come in a charming 7 1/4″ by 3 3/4″ size and come in your choice of ivory or white card stock. Your two initials are richly embossed on the left hand side while the envelope liner is creating using your initials in a repeating  pattern in shades of taupe, sage, gray and lavender. One set is sold as 25 embossed cards with envelopes. You may opt for either the initial pattern  liner or the return address to be embossed on the back flap for an additional fee.
When it's time to ship a package you want your label to do two things. First the label needs to be legible secondly, you want it to look nice. Our Stylized Shipping Labels are approved by the U.S. Postal service, U.P.S. and overnight couriers with your last name printed in block letters to the left, there will be no question as to who sent the package. The white  4″ by 3″ label is large enough to catch everyone's eye and have even some of the longest addresses printed on them. You choose from a small selection of  ink colors to help customize it to your particular taste. The type style comes only as a neat block which allows for quick sorting. One set of 100 labels is just $14.95 and should arrive to you in the typically week and a half.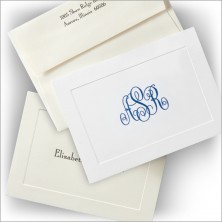 The Debossed Panel Informal Notes may be one of our best selling items. These notes can be used for formal or casual correspondence as they are very versatile and exude a level of class not afforded to just any fold note. The folded notes are available in your choice of a rectangular or oval debossed panel with your name or monogram printed in ink in the center. You choose the ink color and type style to personalize these notes to fit your personality perfectly. The raised ink color mixed with the debossed panel is a a beautiful way to showcase two very different yet very beautiful techniques. One set comes as 25 notes with plain envelopes for $29.95. You may have the envelopes printed with a return address on the back for an additional fee.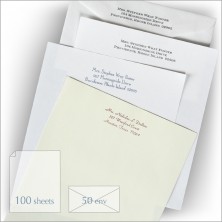 A customer favorite for over 85 years, the "standard" by which others are measured is Best Value! Our Standard Box. This set of stationery includes 100 printed sheets with 50 printed envelopes on exquisite stationery in your choice of ivory or white. This medium weight paper comes with your name and address printed at the top of the 6″ by 7″ sheet. The envelopes are included with matching name and address printed on the back flap. Use these sheets for quick thank you notes or for a nice letter to a loved one. There are so many uses for this set, it's no wonder it is such a favorite. Each set of 100 sheets with 50 envelopes is just $28.95. A quick search on the website for the word standard will reveal to you all the other options available such as extra plain sheets, extra full sets etc..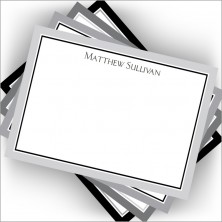 A modern approach to a simple correspondence card is definitely the Gray Bordered Card Assortment. These classic correspondence cards come as a set of 32 cards with four different shades of gray and 32 plain white envelopes/ Your name or monogram is printed at the top of the card in black ink for a lovely contrast. You may order a houndstooth pattern liner for the envelopes to tie the look together. Almost reminiscent of a fine suit this set of stationery is sure to tell all recipients you have style and class. One set is $30.95
So if it is time for you to order a few basic staples for your stationery collection, don't think of them as simple or basic. Think of them as classic and sophisticated. We have many more items available on or website that will help you look serious while still showing off a bit of style.