The other day as I looked out my kitchen window I swore I saw my lilac bush full of blooms. Quickly I put on some shoes, threw a coat and shoes on my toddler and rushed outside ready to pick the beautiful blooms. Unfortunately, they were not quite open yet. I keep checking every day and I know soon they will be ready for me to enjoy both outside and in. My great grandmother had many lilac bushes and her name was actually Lila! So those flowers in particular hold a special place in my heart. Of course where I live there are wildflowers growing already along with my planted tulips and more. It's so nice to finally see varying colors out in the field instead of just stark white snow!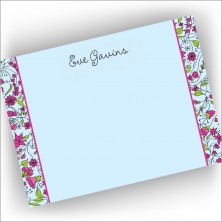 If you are ready to beat the drab winter blues then I think the Wild Flowers Correspondence Cards are just the thing for you. These beautifully vibrant cards come as flat light blue with a floral border that allows just the right amount of pep without taking away from your writing space. The top has a space for your name to be centered and allows for plenty of writing room below. One set of these cards are sold as 20 for $36.00 with plain envelopes included. The back of the card is a blank white and can be used if your message seems to run over. Your friends and family will be delighted to receive such a fun and happy card from you. You may even inspire them to get out in their yard and start planting a few new items in their flower bed! If you wish you may have the return address to be printed on the back flap of the envelope for an additional fee.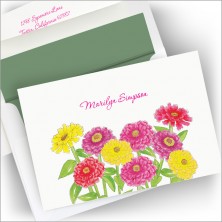 A note card is a card that folds in half and allows for you to write on the inside, as opposed to a flat correspondence card. The Zinnia Notes are a beautiful floral fold set of notes. This note features multiple cheery zinnia flowers that will definitely brighten the day of your recipient. Because the flowers are printed in multiple colors, you are able to have fun with your choice of ink color for the personalization and your ink color don't worry if your friend doesn't have much of a green thumb as these flowers bloom heavily and are easy to care for. One set of the fold notes comes as a quantity of 24 notes for $24.95. Each set includes plain white envelopes that can be lined on the inside for an additional touch. You may choose from several different lining color choices for $24.00 additional. If you would prefer the address to be printed on the back of the envelope, we can do that for an additional fee of $18.00.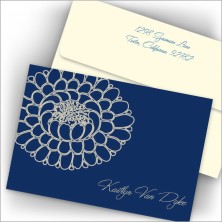 The Navy Fleur Notes are a bold new fold note that features a large ivory bloom on a deep navy note.  This large almost outlined type bloom has a bold statement to make. In the bottom right corner is your name and the note opens to a blank  area to write your message.  Choose this note for a business acquaintance of a dear friend as the simplicity of the design allows for many uses. Although more casual than a traditional embossed note a note with so much personality can be relevant depending on your relationship with the recipient an the subject matter. A set of 24 notes with plain envelopes is sold for $29.95. As mentioned above if you would like to line the envelopes or have a return address printed, you may for an additional fee.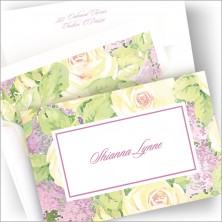 Earlier I mentioned my love for lilacs, well our new Floral Rhapsody Notes feature lilacs and roses in a gorgeous wide border surrounding your name on a fold note! These folded notes have abundant space on the inside for anything you need to share. The stunning bouquet will be sure to warm the hearts of every recipient who will no doubt ask you where you purchased your stationery in their return note to you. A set of 24 notes with plain envelopes is just $24.95. The optional envelope lining for this note matches the border perfectly for a seamless look!
If you aren't in need of a new set of stationery but, would like to add some floral items to your desk, this Personalized Self Stick Memo Cube featuring a floral design would be a terrific item to purchase. This self stick memo cube features beautiful small purple flowers all over the cube with your monogram centered on each side. The cube measures out to a 3 3/8″ square which allows for plenty of note space unlike some other memo cubes which give you little room. Each cube has 675 sheets so they will last quite a while.
With many more floral items to choose from your personal preference of flowers is likely represented on some item here at American Stationery. Take a look around and you will likely find your favorite bloom on an item offered.