Planning a Graduation Open House party takes a lot of time, effort, sweat, and maybe tears. Making food, buying supplies, sifting through every single photo to create a scrapbook, creating a board of your honors and awards, and displaying your new college or university gear.
It's such an exciting way to celebrate our graduates' accomplishments and wish them well as they venture into a new journey of life.
The party should be all about them, and should show off their personality and style. American Stationery has some unique, must-have items for the open house celebration.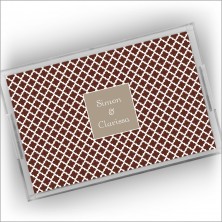 The first is our Designer Ice Bucket, which comes in a variety of patterns and colors. You can choose to personalize it with your name or your initials. The bucket holds one and a half quarts, stands nearly seven inches tall, and comes with serving tongs. It is designed for easy cleaning, too.
You can combine the ice bucket with a Designer Serving Tray, which features the monogram. This 11" by 17" tray will be a great addition to the drinks table at your open house!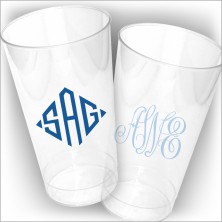 Of course, what's an open house without personalized napkins and plastic cups? You can order a variety of sizes of clear tumblers that feature a monogram, or a design and name. And you can order napkins to match! The napkins and tumblers can also be personalized to match your ice bucket and serving tray.
We have plenty of other items available, such as coasters and guest towels, that can help make your open house one to remember! All can be personalized just for you, and they are great items to keep for memories' sake.
Happy Graduation and Happy Celebrating!