Why should we bother buying gifts? My first answer would be – 'Giving is what separates man from beast'. We all know that giving and receiving a special present can be incredibly powerful and emotional. Remember, it's more than just a gift it's a demonstration of your feelings.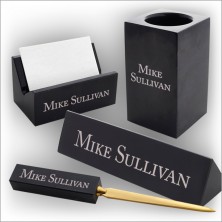 Gift giving is actually a way to invest in a relationship. In essence, it is a social lubricant, a way to celebrate life, love and friendship and become a better partner, spouse, friend, employer and person.
Marble Desk Set  The perfect addition to any desktop! This jet black marble desk set includes a Name Plate, Pen Holder, Square Business Card Holder and Letter Opener, which are engraved with your personalization in a frosty white color that shows excellent contrast. Name Plate: 8″ x 2″ x 2″ Pen Holder: 2 1/2″ x 2 1/2″ x 4 1/2″ Business Card Holder: 4″ x 2 1/4″ x 2″ Letter Opener: 8″ x 7/8″ x 9/16″
More than just a gift – an extension of your personality. As you give time, energy, thought and love you are showing your personality and your generosity as a human being. Buying and giving presents is an opportunity to show who you really are .
Presents transcend money, age and need. When asked what would make gift buying a dream for us, we often answer that having limitless money would allow us to buy the best presents for our loved ones… Wrong! In fact small thoughtful gifts can be far more valuable than expensive ones… It's all about showing people that you care and think enough about them to work out what really makes them smile.
What's more, presents can transcend age and even need: a gift from a child can be, and often is, invaluable. A present does not need to be needed or useful to delight the recipient, it's about thanking and expressing gratitude. Giving presents should provide both the giver and the receiver great satisfaction and a sense of fulfillment… Of course gifts should come from the heart and do not work if bought out of obligation rather than love.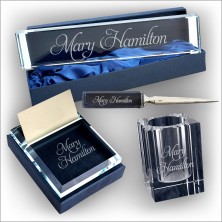 Another valid reason for giving gifts to others is that others are of value to us. Gift-giving occasions are opportunities to affirm one's personal bonds to loved ones. If you ask me I don't think there need to be any occasion to give a gift. It is just a way of showing affection. Chocolates, flowers, Best seller Books, jewelry, Music CD's, Gadgets and Stuff toys are some all time gift ideas. One can pick a gift based on your understanding of what the other person appreciates or needs.
Glass Desk Set The perfect addition to any desktop! This glass desk set includes a Name Plate, Pen Holder, Square Business Card Holder and Letter Opener, which are engraved with your personalization in a frosty white color that shows excellent contrast.
Gifts can be a way of showing off our skills. I have given some of my own crafts as gifts and have received appreciations from the receiver. Giving a hand made gift indicates that you were willing to put in the time and efforts for that person. It's just not crafts or painting which can be given as gifts in this category it can also be homemade chocolates and cakes, self knitted scarves and more.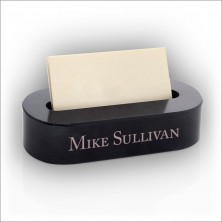 Some people are reluctant to accept money even if they are in need of that because they consider it as charity or hurt ego. But if it is a gifting occasion they would not mind accepting a gift from you. You can give something of utility to the person. My father does not need to accept money from me, but he would happily accept a shirt from me.
Marble Round Business Card Holder A great way to display your business card! This Marble Round Business Card Holder has your personalization engraved in a frosty white color which has excellent contrast with the jet black marble.
If you're unsure about the power of giving presents and find our reasons to indulge in gift giving rather clichéd – try our simple 'gift test' . Chances are you'll find it's a good way to cheer yourself up when you are feeling a little down. Simply buy a small token gift for someone you love and give them the present 'just because' .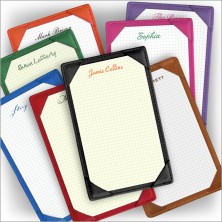 But today we give gifts for our own reasons. For some people, it is a way to celebrate it as a very special day. For others, it is a special occasion to let family and friends know that you care by giving gifts. In short, People give gifts as a way of showing thoughtfulness, love and affection. When we give gifts, it brings joy or pleasure to the receiver. In addition, giving gifts is something which usually makes us feels good. When shopping for gifts it does not matter whether the gift is small or cheap, the value in terms of love is beyond measure.
Leather Note Holder – Grid These stylish leather jotters are ideal for all your reminders and lists. Available in your choice of Purple, Hot Pink, Tan, Black, Green, Red, Orange or Blue holders. The set includes 25 3″ x 5″ White or Ivory personalized grid note cards; that fit nicely into the holder. Sold in sets of 25 notes and 1 leather holder
Game Pads You will love us for these personalized game pads. Keep them handy in the car, your travel bag, whenever you keep your emergency stash of important items. Hangman, Dots and Tic-Tac-Toe never looked so good and certainly have never been this convenient! Each set includes one personalized pad of each game. Set includes 3 Game Pads 100 Sheets each
Yes, there can be such a thing as a bad gift …Some gifts are thoughtless, rude and even offensive.
Never, ever give an appliance to your wife or girlfriend as a gift. To clarify, unless you are certain that she dreams to own a deluxe mixer because cooking is her passion – stay clear from appliances . Especially avoid vacuum cleaners, washing machines or any other device that might be used to clean up after you.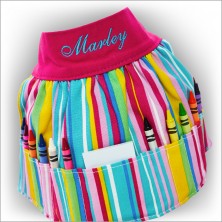 Of course giving to charity is good . However, never give someone "A charitable donation made in his or her name" as a gift… Unless they have dedicated their life to a particular cause (in which case the donation will be meaningful to them) or specifically requested that you give money to charity instead of buying a gift. Unless you are truly buying a gift for someone with similar taste to yours… avoid buying something you actually want for your self . Just because you want a game system, does not mean your mom will appreciate it, especially when you ask to borrow it before she's even got it out of the box. Take their own tastes into consideration… see our "Pay attention and get outstanding ideas for gifts for friends and family" for advice on picking a gift they truly want.
Girl's Crayon Apron For the budding artist, this pink striped crayon apron keeps her favorite colors at her fingertips and makes the perfect personalized toddler gift. With adjustable hook and loop closure in the back, it will grow with your child. Each apron has front pockets to hold multiple crayons and a pad of paper. A box of 24 count Crayola crayons is included.
"Best Mom" mug, T-shirt, and coffee makers and other dumb awards are out . Consider them only if you are under 12 years old or if you want to make a cheesy statement. For example it might be a suitable baby gift for a friend expecting her first child.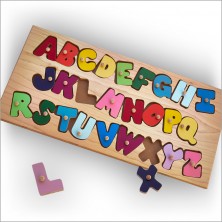 Don't give an overweight friend fitness equipment or diet books. You might think you are doing them a favor but they may be offended. Think about what your gifts are saying before you buy them… remember some gifts can be offensive!
Mugs, toiletries and lottery tickets are often given as presents. Although they might be suitable as 'stocking fillers' or for people you don't know very well, beware when buying these for close friends and family. This kind of gift just says: "I really had no idea… so here you are ". To turn such gifts into welcome presents make sure that they are personalized . For instance, if you know the person well, buy their favorite toiletries or quality mugs that matches the rest of their dining ware .
"Live" presents are usually best avoided , unless you are 110% sure that the recipient wants a pet or you are buying for your child. Dogs and cats are a big responsibility and it is best not to push anyone into that situation without warning… there might be a reason why they don't already have a cat or a dog.
Alphabet Puzzle These hand-carved and painted accessories will cheer up any child's room. All items are finished in non-toxic latex paints and are recommended for ages 2-10.Size: 10″ x 20″; letters have pegs and are 3/8″ thick; made from furniture grade maple Painted with non-toxic Latex paints and Lacquers
Clothes are usually best avoided , unless you have seen the recipient try it on and put it back because they could not afford it. Chances are that you will get the style, size or color wrong and the recipient will feel forced to wear it at least once in front of you.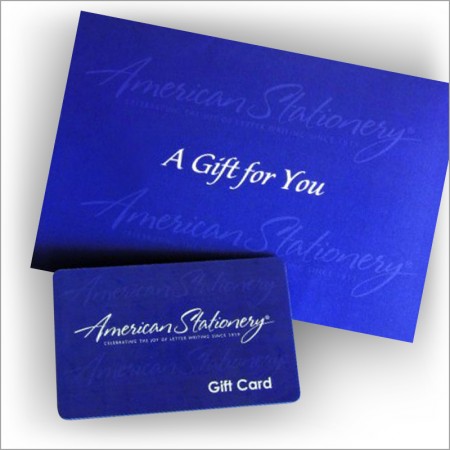 However clothes can make great gifts if you get it right . Some might even consider using gift giving to curb an addiction to unflattering clothing or bad taste… think of it as clothes rehab through gifts… however tread carefully and make sure your own taste in impeccable and you know the recipient well. If in doubt stick to clothes gift cards!
Gift Cards can be a great gift for people who like to shop and choose their own thing . They are also a good alternative to posting presents to friends and relative who live far away . However make sure that you buy the right type of voucher or gift card.
When it comes to giving gifts, we ourselves are the treasures to be given. Online shopping stores have a wonderful range of gifts at affordable prices. Through online shops you can even send presents to those who stay in another country. There is a lot more one can do like even if it's not a gifting occasion like adopting a child, giving education to a poor child, giving clothes or blankets to poor families, donating toys, food etc to those who cannot afford it.