I can't tell you how many times I've been at a conference, reception, or a networking event of some sort, and someone has asked me, "I'd love to stay in touch, do you have a business card?" or "We have a few jobs that we are trying to fill, and I'd love to chat with you about more opportunities."
And to his/her surprise, I've made an awkwardly, sour face and replied, "Noooo," in a sing-songy voice filled with shame. Then, I follow it up with, "But I can take your business card and contact you!" in a desperate attempt to convey the message that I am a responsible adult and very interested in building new relationships and pursuing opportunities.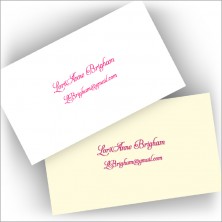 Lesson learned? Always have a generic business card handy. Always.
By generic, I mean a personal business card that represents you and your personal brand. A business card that is not affiliated with your current place of employment or another company. A business card with your name, personal email, a phone number, and maybe city and state. A business card that incorporates your sense of style and easily communicates your personal information.
There are plenty of websites that promote designing your own business card and having the latest and greatest fashion-forward, edgy, cool, hip, awesomely designed business cards, but they can also be low quality. Sometimes, you simply have to make an investment in yourself and your brand.
Here at American Stationery, we have some great business card options that never go out of style. They are simple, classy, affordable, and high quality.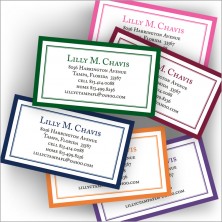 The first is the letterpress business cards. They are printed on our heaviest weight cotton paper, and are available in a variety of ink colors and type styles. Unfortunately, the beloved monogram is not available for these, but you have the opportunity to showcase your personality through fonts and colors. You receive 100 cards in one set.
The second option is the classic bordered calling cards, which are classic. They are available to order in our most time-honored colors, and you have a choice of type style. These are printed on medium-weight white or ivory card stock.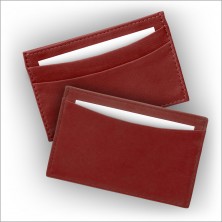 You can complete either set with the leather business card holder, which is an honestly great investment to make! The holders are made out of hand-crafted leather, and come in black, red, or brown, so you won't clash with the colors on your business card.
Don't make the mistakes that I did. Avoid the awkward conversations. Invest in your personal brand. You truly won't regret it.