Now my husband claims his favorite color has always been blue. I don't know if it is because it just is ingrained into boys that blue is for them or if he genuinely likes it. I like to tease him that it's because his eyes are such a bright blue, he wears blue to bring them out, as he is just a little vain of his baby blues. Whatever the case whenever he has to go clothes shopping or stationery shopping, blue is what he is drawn to. He even insisted on having a shade of blue as one of our wedding colors!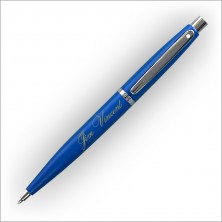 When my husband is out in the field working instead of in his office, he has to take copious amounts of notes. So that is why an item like the Blue Sheaffer Pen is ideal for him. This sleek Sheaffer pen is stylish and functional. Better yet you can have your name printed on it which makes it truly yours and stops people like me, grabbing it out of the home office to jot down a grocery list with. The pen is sold personalized for $19.95 and comes in a variety of colors with blue ink only. At five and a half inches long with a click top this item is ideal for a pocket or a desk.
The Navy Hand Bordered Correspondence Card is one of our best selling items and it makes sense as to why. Navy blue goes with everything and is a great choice for a man or a woman. This flat correspondence card features a thin hand bordered border around the outside edges in a luxurious navy blue. At the top you may choose your personalization from our list of type styles and monograms. Each set is sold as a quantity of 25 and comes with plain envelopes. This stark blue will be complimented by blue or black in pen and are made of a sturdy card stock, With this set, your recipient will know that you have officially arrived. You may choose white or ivory cards in your set of 25 for $35.95. If you choose to order 50 you will receive a price break at a price of $45.95. You may always opt for a two to three line address to be printed on the back for $18.00 additional. You may also choose from our wide selection of inside envelope liner choices for $24.00. My husband loves the solid navy liner which gives this already dashing stationery a very polished look.
Every desk needs a memo pad. Why not order our Personalized Desk Organizer and Memos with matching etched acrylic holder? My husband writes notes to himself pretty often and it makes sense as he runs his own business on his own so he's responsible for everything. It's easy to over look simple every day tasks and making notes and short lists helps him a lot.  For $56.95 you will receive six pads including three various sizes perfect for note taking message sending, list making and more! Each pad is personalized in your choice of several different ink colors and type styles.  The holder will also be personalized and has a place for each pad and an ink pen. The set will come to you in approximately ten business days. This set will last you quite some time but, if you should need more, you can order a refill set of six pads for $29.95.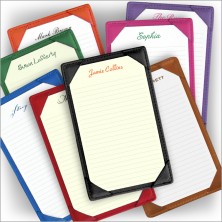 Our new item, the Leather Note Holders come in a variety of colors (including blue!) and not only useful but, attractive as well. They snugly hold  personalized note cards. Which are available plain with a name, or name and address. You can also order them with lines or grids. The grids would be perfect for my husband when he has to sketch or measure a building while out in the field. You may order it with white or ivory paper and choose from a selection of ink colors and type styles. They can be customized to fit any need and come as a set of 25 cards with the holder for 433.95.
Now there are plenty of ladies out there who love shades of blue. So to not leave them out, I suggest looking at the Ofelia Seafoam Fold Notes. These fold over note cards are absolutely gorgeous!  The front of the card is covered in large flowers in shades of blue and green above a small blue bar where your name will be printed. The card opens up to a stark white inside for you to write your message. For $32.00 you will receive twenty fold notes with plain white envelopes. As with most of our items, you may choose to have the envelopes printed with a return address or have the inside lined for additional fees.
What is really cool about this particular design is that we also offer the design on invitations, address labels and envelope seals. A quick search for Ofelia Seafoam should reveal to you all of t he other options. They would make for beautiful bridal shower invitations or for an outdoor garden brunch. There are so many options for you to explore with this gorgeous floral design.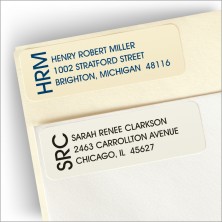 It's important to have address labels. Not only do they save your time but, they are always clear to read and it's another way to showcase your personality and style. The Side Initial Address Labels are perfect for folks who crave just a little flair without being overly styled. One set of 250 address labels for $7.95. They come on a roll and are personalized with your initials to the left and your name and address to the right. You may choose from three different ink colors.
Of course we offer many, many more items with blue ink or paper choices. This is just a small sampling of some of our blue items. Look on our website or flip through our catalog to find your favorite blue item and order one or two today!