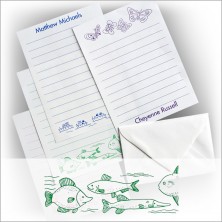 Everything makes a statement when it comes to stationery.  From the paper you use, to the way you address your cards, it all works together.  But, how do you know if you are making the right statement?  It starts with the basics.  From the paper to the actual design, we break down all you need to know about choosing the perfect stationery.
Choosing Paper
First, we begin with choosing the paper, itself.  Paper comes from either wood or cotton.  Using wood derived paper is a less expensive option because of the availability of trees.  Many people choose this route because wood source stationery is generally more affordable to them.
Some paper, though, is still made from cotton.  If paper is made from cotton, it will have a richer and softer feel.  You will pay for the luxury, but it is hard to pass up the feel of soft, rich cotton stationery.  These beautiful papers are both luxurious and elegant.
Choosing Color
Next, you have to consider color.  Stationery comes in a variety of colors, including many variations of the color white or ivory.  You can also choose to include some bold colors in your stationery, with the card itself, the design, or the inside of the envelope flap.  From bright blues and pinks, to grays and designs, the options are truly endless when it comes to choosing color.
Choosing Print Style
The third basic when it comes to choosing stationery is deciding which print style to go with.  There are several options, including flat print, engraving, embossing, and more.
With engraving, you have chosen one of the most long-standing and elegant processes.  Engraving delivers magnificent detail and a three-dimensional appearance.  This raised impression is both elegant and formal, useful if you want something traditional, or are planning a more upscale celebration.  Engraving produces a raised style of print, setting this type of printing apart from the rest.
Thermography emulates the process of engraving.  It is more affordable than engraving is, but still looks beautiful when finished.  Products made with thermography printing often have a shiny appearance.
With embossing, the printing style creates a raised impression.  The item is pressed between two heated metal dies to give it this look.  This is an extremely sophisticated and elegant print style for any occasion.
Flat print is an affordable option if you do not want to invest in engraving or thermography.  It is typically less formal than these other options, but is extremely versatile in design.  For a more informal look, typically a laser printer is used to transfer the image onto paper.  This is a great solution for things like holiday cards and address labels that you will buy in bulk.
Choosing Type
Finally, when choosing stationery you need to be conscious of how you plan to use your purchase.  There are different types of stationery available, depending on the situation or the event you plan to use them for.
Correspondence cards are the perfect solution for a quick and informal thank-you note.  However, you have the option of making the card as simple or as elegant as you desire.
If you want your note to stand out from the rest, or just want to write a short note to friends, there is also the option of a fold note.  These types of note cards are a little smaller than a typical correspondence card, plus you only write on the inside of the card.
When you need more room to write out what you want to say, consider investing in letter sheets.  While some are smaller in size, they also range up to executive sized sheets, depending on your needs.  You will also find a number of designs available, as well as things like embossed and printed, bordered and non-bordered, and informal to formal designs.
Additionally, options include couples' stationery, featuring either a monogram or the names of a couple.  If you use this type of stationery, it is important that you are using it to reflect something that both of you are a part of.  For example, if you are thanking someone for a gift or a party invitation, or are inviting people as a couple, this type of card would be appropriate.
No matter which type of card or stationery you choose, which colors, which print, and which paper, make sure you are choosing the right selection for your needs.  Whether formal or informal, professional or social, American Stationery provides a wide variety of stationery styles to fit all of your needs.