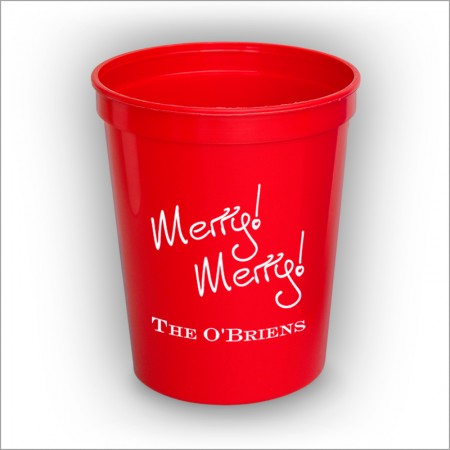 A lot of people have the misconception that branding products and services is something that only large corporations or private businesses are capable of. This is not true. Even small business can create a brand. Branding is not just a choice for small businesses anymore. Gone are the days when people would resort to small businesses for the sake of personalized service. Nowadays, small businesses need to come up with a unique branding concept in order to stay afloat in the immensely competitive market. Branding a small business does not have to be very complicated. In fact, it could be as simple as using custom stadium cups.
Why Use Stadium Cups?
Stadium cups are known to be a lot more durable than conventional cups. It is also much easier to personalize stadium cups. This is why stadium cups are the more practical option, when compared to traditional plastic cups to which we have become accustomed. Custom stadium cups can be used by small businesses to create a statement for themselves. It is a simple branding strategy that can be employed to make your small business unforgettable for anyone who uses the stadium cup. After all, the whole point of marketing is to get your company's name firmly embedded in the mind of your target audience.
Versatility of Stadium Cups
A stadium cup does not have to be used for beverages only. It can serve as a holder for just about anything that can fit inside its circumference. Pens, crayons, pencils, staplers, a paper punching machine, paint brushes, and other types of office stationery can be easily accommodated inside a stadium cup. There are some people who use stadium cups to hold forks, spoons, and knives. Even weirder is the use of stadium cups as a small plant pot. These just go to show you how versatile a stadium cup really is. Such a versatile item can be a great asset for your business when produced in a large batch and used for multiple applications.
Stadium Cups as a Promotional Material
Did you know that there are a lot of small businesses out there that are utilizing stadium cups as promotional pieces for their products? Modern printing technology has made branding a lot easier. You can take advantage of this wonderful technology to place your company logo, your brand name, or any other thing that promotes your business on a stadium cup. This stadium cup can then be given out to important clients and potential customers as souvenirs or promotional gifts. Since the body of the cup is quite spacious, you can write just about anything on the cup. That being said, it is preferable to keep the text short and sweet. The more concise your words are, the greater will be the impact of your branding. Not everyone has the time go through a long piece of text pasted on the body of a cup.
Stadium Cups in Corporate Events
For a small business to climb up the ladder, it needs to host corporate events. Hosting a corporate event will give your small business some much needed exposure and compel people within the industry to consider you as a strong contender for the market leader position in the future. Sometimes, corporate events can be hosted to celebrate a special occasion such as a holiday. This is where stadium cups can come in handy. Stadium cups and holiday events pretty much go hand in hand. It can be used extensively to serve drinks during a company sponsored outing. Here, the stadium cups serve two simple purposes. Firstly, they are being used to serve drinks for your valued clients and potential customers. Secondly, they are acting as a widespread mass promotion of your business.
Custom Cups Are Inexpensive and Effective
Custom stadium cups, as the name suggests, are a popular beverage carrier during sporting activities. Thus, whole essence of festivity and merry making is closely associated with stadium cups. It is very common to see people making use of stadium cups in outdoor parties and at events of all kinds. Stadium cups come in a variety of sizes and are inexpensive. They are very effective as a marketing tool, and their inexpensiveness makes them a wonderful investment for your business.