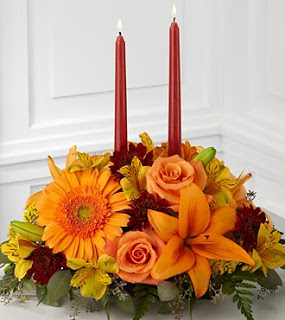 When the air turns crisp and the leaves begin to change, we can't help but think of all the fun activities that come with the fall season. Football games, bonfires, hot cocoa and warm apple cider, trips to the mountains and – most importantly – Thanksgiving!
An American tradition every year on the fourth Thursday in November, families get together around dinner and celebrate with a bountiful meal. While this is usually a fun time for all involved, it can prove to be a stressful experience for the host of the dinner. Whether it's your first time or hundredth time hosting, we have supplied you with some tips and tricks to pull off Thanksgiving dinner flawlessly!
1. Keep a running guest list.
After deciding you want to take on Turkey Day, you need to immediately get an idea of how many guests will be coming over. If this is a formal affair for you, send invitations or create an event on Facebook. Whichever method you choose to invite your family and friends, just make sure you ask that they give you a definite answer.
One of the most frustrating things of any dinner party is keeping the running list of guests. People may cancel, they may say they are coming and then don't show up, or you might not hear anything from them until the day of. Even with all of this, a good host should always be prepared.
2. Never turn down help.
Only a rookie dinner host would turn help down! You may think a perfect host masters it all, but a true host knows when to let others help. If you think about it, Thanksgiving is like a large potluck dinner, of sorts. Does your mother have a to-die-for pecan pie? Perhaps only your uncle makes the most succulent bird. If that's the case, great; let them bring those food items!
You may even want to take it a step further and ask each guest to contribute in some way to the dinner. This could mean they bring a side dish, dessert, wine, or whatever else they like. However, if you do want to go this route, make sure you let the guests know about this ahead of time. If you send out invitations, include the rules on there. Otherwise, when it's decided Thanksgiving will be at your place this year, call, email, and text the guests so they can plan ahead.
3. Make as much food ahead as possible.
Another vital thing to remember: Try to make as many dishes as possible the night before. You don't want to spend the morning scrambling around the kitchen trying to make sure every dish is ready by the time the guests arrive.
4. This is not the time to experiment.
There may be a killer recipe you've wanted to try, but Thanksgiving dinner, or any dinner party, is not the time to experiment. Stick to the recipes that you know are a hit.
If you are really itching to try a new dish, make sure you make it a couple of time before the big dinner. Try it out with family or friends to make sure it's a crowd pleaser.
5. Decorate the night before.
If you have banners you want to hang, a centerpiece you have to put together, or any other decorations, do so the night before. This way, when the guests arrive, everything will be set to go. Set the table, place name cards in the plates, create your playlist, and do anything else that adds to the atmosphere.
6. Have drinks ready to go.
Before the guests arrive, have the wine, cocktails, and any other drink option set up and ready to go. Designate an area of one room as the bar and provide glasses, cocktail napkins, and drink choices for your guests.
This makes it easy for everyone to choose what he or she wants to drink, without bothering you. Guests will mingle with each other, which leaves you able to finish adding any extra touches in the kitchen.
7. It's okay to buy some food.
If you suspect that you may end up with extra guests, or perhaps you just didn't have time to bake rolls, it's okay to buy a couple of extra items. The chances are slim that anyone will actually notice and, if it helps make your life easier, why not?
8. Have fun!
It is a holiday, after all! Even if you were stressed the night before, relax and enjoy your company once the guests arrive. When the host is happy, everyone tends to be happy.