Sending out fun and beautiful stationery, accompanied by a meaningful or quirky gift, can really brighten someone's day or even set the perfect tone for an upcoming event. Don't feel limited in your opportunities to send out invitations or congratulatory notes, either. Life is full of events worth celebrating and making fond memories of, and a beautiful card and thoughtful gift can really go a long way in helping create those memories.
Whether you're always on the lookout for new ideas or tend to hit a few brick walls when trying to think of the right thing to send, here you'll find a full host of ideas and examples for every occasion.
Christenings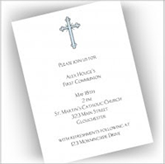 Christenings and baptisms are certainly traditional events, filled with serious symbolism and deep meanings, but this doesn't mean that announcements and invitations have to be super serious and somber. After all, these events are really meant to be joyful and mark an important moment in the life of child. If you're sending out announcements and/or invitations, consider customizing your stationery with a picture of your child. Choose something sweet and fun, something with laughter and bright colors that conveys the happiness and well-wishes of the future.
For background themes, think of choosing something that uses a chalkboard motif with fun, intricate patterns, crisp borders, and bold, modern fonts for something that feels more up-to-date as well as fun. Of course, if you want to keep to the more traditional, choosing stationery in ivory with gold or silver scrollwork and beautiful calligraphy script certainly conveys a timeless elegance that everyone can appreciate.
When looking for gifts to offer the baby/parents to commemorate the special day, consider giving personalized picture frames, appropriate religious jewelry or medallions, and religious storybooks.
Birth Announcements and Congratulations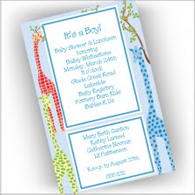 The new arrival of children to a family is a truly precious moment, one that definitely deserves celebration. Sending out announcements is the perfect means to include all of your family and friends in the happy event. Stationery with pictures of just the baby or the baby with one or both parents is a good idea, as everyone is always curious and excited to see what the newborn looks like
Don't feel restricted to the traditional pink and blue gender designations, either. More and more options are exhibiting a wide range of color palettes, graphics, and designs that transcend the typical expectations. Black and white photography has a timeless feel, while creative ways of photographing the new baby can add a sense of whimsy to customized cards. If you and your spouse share a passion for a certain hobby or activity, perhaps photograph the baby as a miniature addition to this hobby – little fishing poles or hiking boots, scuba gear, or art accessories, etc.
Small stuffed animals are always adorable options for congratulatory gifts, especially ones that feature wind-up music boxes inside. Avoid sending clothes unless asked for, as they tend to be outgrown quickly. Instead, focus on gifts that can act as cherished mementos or toys that will still carry meaning and purpose as the child matures. Even send monogramed tote bags with the baby's initials, thus offering something cute and practical to stow all of their gear in.

Birthdays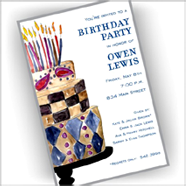 Birthdays always offer a great chance at getting quirky and inventive with stationery purchases. When looking for stationery for a child's birthday, it's a great idea to get them involved with the selection process, as it helps them get in touch with the idea that it's really a special event just for them. Stationery that showcases cool paint splattering techniques or which has been dip dyed are great for artistic personalities, while finding options that feature treasured book or animated characters is always a popular route. For adults, it's fun to keep the kid in you alive and bring out some humor in your birthday invitations. Don't be afraid to go for something a little rowdy or racy. If you're feeling more classy and upscale, look for something that showcases cocktails, offers eye-catching modern graphic designs, or comes with pop-up displays.
Picking gifts isn't always an easy task, especially if you don't know someone all that well, or you're a parent on a budget who doesn't want to spend a small fortune on gifts for your kid's friends. The easiest and quickest gift by far has to be gift cards. Many may feel that they're too impersonal, but they're extremely practical, and many people tend to ask for them anyways. Almost every retailer offers gift cards or certificates of some sort, making it easy for people get things they really need or that they've been wanting for some time.
If you have a friend who writes, think of purchasing some affordable vintage-inspired journals. Know someone who enjoys crafting with fabrics? Find leftover swatches of fabric in a bevy of styles that they can use for all sorts of projects. No matter a person's interests, there's always something small and affordable you can find to brighten their special day.
Thank You Cards
A thank you goes a long way in this world, and, while it may be two simple little words, it's a phrase that can certainly mean a lot to someone – especially if it comes with a thoughtful card. Thank you cards are still very much in vogue and can be used for literally any occasion for which you want to express your gratitude.
They don't have to be anything complex or over the top, either. In fact, simple and understated is a better option; otherwise, it may come off as too gushy. Simply mention who the note is for and include a personal message. Perhaps you're thanking someone for a great dinner, for inviting you to a special event, or for coming to your birthday or wedding. If it's one of the latter, and the person gave you a gift, perhaps include a reference to it and how you plan on using/displaying it.
Sending along a little gift with a thank you card always makes the gesture feel a little more special, and what could be wrong with that? The great thing about thank you gifts is that they're already expected to be inexpensive, so there's no pressure to break the bank. Candy or baked goods always go over well, as do flowers and candles. Novelty ice cube trays are a fun gift to give, especially since the person you send them to can use them at their next party.

Graduations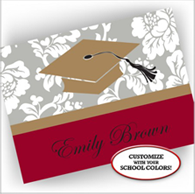 Finishing high school or obtaining a university degree are big moments in a person's life, so sending out announcements is a great way to showcase pride in these achievements. Remember to include all of the technical information in the announcement – the school, class year, areas of study, etc. – but make them a little more personal, as well. Pick announcements that feature designs or photos that reflect hobbies or extracurricular activities they've been involved in.
For those graduating from college, it's always fun to keep with a theme that reflects their major, such as showcasing medical equipment for doctors and nurses, or architectural drawings for architects and engineers.
Graduation gifts are often centered on monetary gifts, especially considering how much college costs. Money can go a long way toward purchasing text books, buying new clothes for the next year, or even helping to pay off loans. For those graduating high school and heading off to college, think of purchasing them small things that could be useful in their dorm or apartment, and which will allow them to put their own personal stamp on their new surroundings. For those graduating from college, picking a small gift that reflects their area of interest is sure to strike the right note.
Holiday Invitations
Festivities aren't just restricted to Christmas and New Year's Day – there's always something to celebrate any time of the year! One particularly fun holiday worth throwing a party for is Halloween. Invitations for Halloween parties are excellent for indulging in some thrilling fantasy and childhood nostalgia. Go old-school retro and opt for invitations that evoke classic horror films or vintage Halloween animations. Even find stationery that comes with images inspired by the works of horror writers, such as Edgar Allen Poe.
On a more lighthearted note, the 4th of July is often an overlooked holiday worthy of great stationery. This is a key chance to hold a barbeque, and enjoy the warmth and lasting light of summer with family and friends. Red, white, and blue are basic musts for 4th of July stationery, but look for innovative ways in which these colors are used. Embossed stationery with shiny, metallic hues can cause firework graphics to truly explode and sparkle on the paper.
Great gifts for holiday celebrations are those that either focus on the theme of the holiday or are perfect for the personality types of those hosting the event. If you're going to a 4th of July barbeque, think of bringing sparklers or small flags. For Halloween, bring along small bottles of apple cider, and, for Christmas, opt for hot chocolate kits or even mulled wine.
Special Occasions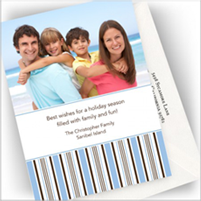 You don't need a holiday or momentous life event in order to break out the stationery and throw a party. After all, fun isn't relegated to just a select number of days in a given year. Spring is a great time to host a luncheon outside in the garden, before the heat of summer has fully set in. Think about arranging a spring or summer picnic for a select group of friends, and sending out invitations that capture the essence of the great outdoors. Cards that feature botanicals, as well as scenes of mountains, beaches, animals, and other outdoor scenes are great for setting the right tone for your backyard get-together.
If hosting such an event, and the weather is going to be warm, think of providing your guests little gifts like handheld battery operated fans, sun visors, or miniature bottles of sunscreen. For those attending outdoor parties, bring along little umbrellas for drinks or a collection of glass cocktail stirrers. Maybe even pick up some homemade jam or preserves at a farmer's market that can be sampled by everyone.
Condolences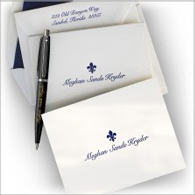 The passing of a family member or friend is always a sad experience, and it can really mean a lot to someone to receive special condolences. After all, it's in times like these when people really need to feel that others are thinking of them and that the person who has passed was truly loved by many others. If you were particularly close to the person who has passed, then perhaps go for a custom card that includes a picture of a happy memory so that their family members can focus on the positive aspects of that person's life. Choose something with a bit of moving poetry or which comes with a soothing message that reflects the person's beliefs.
Small tokens of remembrance are particularly useful for conveying your sense of sympathy to the family of the departed, but be mindful of the family's wishes. Some may ask that memorial donations be made in lieu of flowers, but you could always include some pressed flowers in your condolence card. Photographs or small pieces of art can be very moving, but especially poignant are any small mementos you can find that evoke the spirit of the person who has passed, which can remind loved ones of them. Such gifts help to create the impression that the individual is still a part of this world.
Final Thoughts
The best thing to take away from this is that there's always something to celebrate or memorialize in life, and stationery goes a long way toward setting the stage for such moments. Apart from this, in today's increasingly technological world, it's easy for so many other forms of interaction to feel impersonal, so receiving a physical card, invitation, or thank you note, along with a special gift, can truly add a bit of warmth to someone's day.