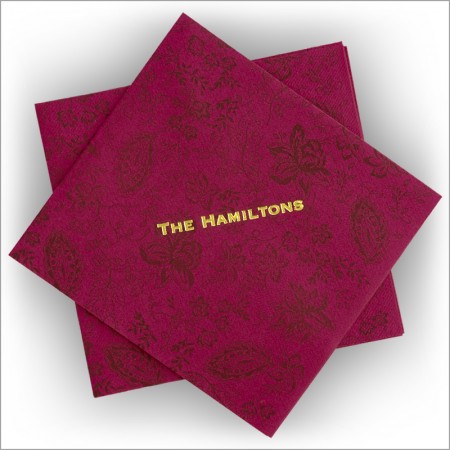 We have all used dinner napkins. They beautify our dinner tables and add a touch of sophistication to our meals. Despite the widespread popularity of napkins, the users of this table linen seem to know very little about it. It is almost as if dinner napkins are meant to magically appear on our dining tables when we are ready for dinner. A lot of people know nothing about buying dinner napkins and how to differentiate a good one from a bad one. Perhaps that is why people are becoming increasingly comfortable with the use of one-time napkins. One-time napkins are quite convenient, but they simply pale in comparison to a linen dinner napkin.
Purpose of Dinner Napkins
Dinner napkins serve three simple practical functions. They are used to prevent spillages, mop up spillages, and keep our mouths and fingers clean during a meal. They are particularly useful during meals where we really like to dig into the food. If you are having a simple veggie sandwich, then a dinner napkin need not be called into action. However, if you are slicing up a beautifully cooked roast turkey or rolling up spaghetti around your fork, then you should have a dinner napkin by your side to ensure that you stick to your table manners.
In addition to these functions, dinner napkins also serve an aesthetic function. As mentioned before, they enhance the beauty of your dinner table setup. They also accentuate the appeal of the food and make the whole concept of sitting down for a family dinner much more inviting.
Given how magnificent they look, napkins can sometimes be used to hold a wine bottle. For the same reason, they are used in bread dishes.
Choosing a Dinner Napkin
You could always randomly select a dinner napkin set from the market or from an online store. However, there is great pleasure in carefully picking dinner napkins that best suit your needs. When properly chosen, dinner napkins can turn out to be a wonderful asset to cherish. Here are some things that you need to consider when choosing a dinner napkin
1) Napkin Size
Most dinner napkins come in a square shape. They can be as small as 30 cm to 30 cm, or as large as 65 cm to 65 cm. When displayed in stores, dinner napkins are folded twice over to form a smaller square. The stated size of the dinner napkin can either be the unfolded size or the folded size. The size of dinner napkins you select will depend on your personal preferences and requirements. As far as preferences are concerned, most people like the idea of using small- sized dinner napkins that take up little space on the table. That being said, different meals call for different sized napkins. For light dinner meals, you can pick the 30 cm x 30 cm dinner napkins. For buffet meals, you are advised to buy 45 cm x 45 dinner napkins. When you are hosting a formal dinner, it is preferable to use 65 x 65 cm dinner napkins.

2) Napkin Material
Napkins can be made from quite a few different types of materials. Cotton, linen, cotton blends, linen blends, and polyester are some of the common choices for dinner napkin material. Fabric napkins tend to cost a little more. However, it is completely worth it to spend your money on fabric napkins, since they are machine washable and can be reused over and over again. Besides, fabric napkins look absolutely gorgeous. They have a smoother texture and appear quite classy. If looks are not too important to you, then the impressive durability of fabric napkins is another thing that should catapult this item to the top of your shopping list. Both linen and cotton are great choices. However, you are recommended to go for the linen, because it has a more crisp appearance and feel than its cotton counterpart.
3) Napkin Design
Contrary to common belief, a dinner napkin does not necessarily have to be plain white, boring, and mundane. In fact, dinner napkins can be used to make your dinner table much more colorful, vibrant, and lively. Dinner napkins are available in a multitude of colors. You are advised to choose a color that serves as a contrast to the color of your table cloth. For example, if you have a plain white table cloth, then a dark green dinner napkin would look absolutely marvelous on top of that. Dinner napkins can be embossed with monograms to look even more magnificent.