Summer is right around the corner. We are that much closer to warm, sunshine-filled days and relaxing by the pool.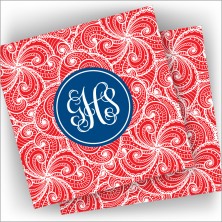 Memorial Day is often an unofficial marker to the beginning of summer, and it is approaching quickly. Many of us choose to celebrate this holiday by gathering with friends and family, having a small party, and firing up the grill to cook delicious foods, all while remembering the service men and women who have dedicated their lives to our country. We could never celebrate or say thank you enough, but I am always glad to have a special day to observe this important holiday and be reminded of our country's history.
If you are planning a social gathering for Memorial Day this year, American Stationery has some great party items for you to wow your guests. Coasters, napkins, and cups – all personalized for you and your party.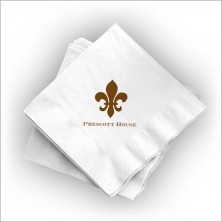 We have tons of coasters to choose from, but my favorites for Memorial Day are the Designer Coasters with the Monogram. There are three options with red, white, and blue as the colors, and you can create the monogram of your choosing. Pattern 18 – red swirls is my favorite! You receive 50 disposable coasters in one set.
Napkins are absolutely a necessity for any party, and while we offer a variety of sizes, styles, and colors, I recommend the DYO White Beverage Napkin. You can choose to personalize with a name, design, or a monogram, and choose an ink color. You could design this napkin with a monogram in red ink to match your coasters. If you're looking for a larger napkin, I would choose the DYO Color Guest Towel Napkins with a Foil Stamped Monogram.
You can choose a red, white, or navy blue napkin, and have the foil color be red, blue, or white, depending on the color of napkin you choose. I know, so many options!
The final item to round out your fantastic, personalized, and stylish Memorial Day party are cups. A very important party accessory, if you ask me. Out of all of our options, I would select the DYO 12 Ounce Clear Tumblers with a Monogram. You can choose the monogram ink color to be red, blue, black, or white, among tons of other colors, so they will match your coasters and napkins. The tumblers come in six different sizes, so you can choose what will fit your party needs.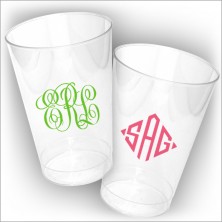 If you aren't crazy about the monogram, have no fear. We have hundreds of other combinations of coasters, napkins, and cups to suit your needs.
We hope you have a safe, relaxing, and enjoyable Memorial Day weekend. Thanks for celebrating with us!