Bright warm days and cool crisp nights make people want to gather together for good food and friendship before the colder weather sets in. Invites for fall picnics, evening bonfires, tailgate parties and simple dinners with friends will be arriving soon.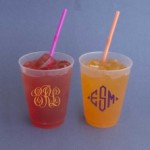 A party is the perfect excuse to get out the baking pans and warm up the oven! And since homemade goodies are always a welcome hostess gift why not bake a batch of apple spice muffins or pumpkin and
cream cheese cupcakes for your next gathering? Maybe a deep dish apple pie? Whatever you decide to make be sure to jot down the recipe for your hostess so she can make your tasty treats to give to her next hostess! By using personalized recipe cards printed in fall colors or designs she will always remember whose kitchen it came from. Get creative and package your goodies in a brown paper bag and attach the recipe card using colorful ribbon to coordinate with the card. Or maybe arrange them on a cutting board personalized with her name using clear cellophane wrap and securing with a knot of natural raffia
to attach the recipe card and tie it all together.
For something a bit different, why not give her a personalized serving board with a dip bowl. Fill the bowl with homemade pumpkin fluff dip or a fresh garden veggie dip and scatter a variety of crackers on the tray. Tuck a single sunflower bloom next to the bowl and you have a simple but beautiful gift for your next hostess!
Is your next tailgater BYOB? How about giving the host his very own personalized beverage cooler? Use it to bring your beverages but then leave it for him! Or if wine is more your style, then give a more classic gift of monogrammed wine glasses.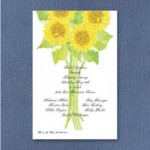 Having your own get together? Invitations set the tone for the party so be sure to choose one in rich fall colors such as brown, wine or gold. Bright sunflowers or colorful leaves will also make a
festive statement. Continue this tone in your decorating. Make simple arrangements by filling a clear vase or jar with colorful leaves, acorns and nuts. Insert a few bare branches for a simple but dramatic look. The use of disposable cups an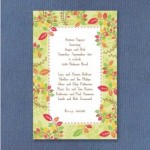 d napkins makes clean up easier but they don't have to be ho hum. Jazz them up by having them personalized with your monogram in an ink color to match the party decor!
Whatever your role, guest or hostess, be creative. Use the bounties of a fall harvest and the warm rich colors of nature to your next gathering.