American Stationery - 100 Years of Tradition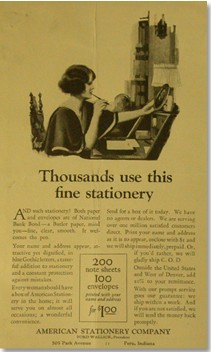 Vintage Ad -- Circa 1920
Since 1919, American Stationery has been a leading provider of personalized stationery and related products direct to the consumer. In these 100 plus years, we have served generations of satisfied customers with our quality and values.
American Stationery is a manufacturer, not a re-seller, with a brick and mortar facility in Peru, Indiana. We have over 200 employees ready to make your shopping experience a pleasure.

As the world has changed in the past century, American Stationery has changed with it. While we're still the same family-owned business, our state of the art web-site allows you to preview your order and send it directly into our system for quick, error free processing.

Remember, you can order with ease and confidence from American Stationery.
Click here to see what some of our customers are saying about us.
---